Stephen Colbert Sister Elizabeth Colbert-Busch Leads Mark Sanford In SC Congressional Race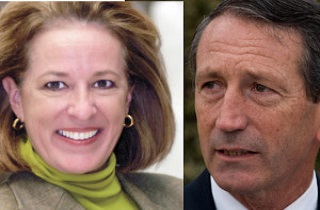 The race for Sen. Tim Scott's (R-SC) vacated congressional seat is about to begin in earnest, and early polling shows Elizabeth Colbert-Busch holding a slim lead over former South Carolina Governor and Appalachian Trailblazer Mark Sanford. Colbert-Busch, the sister (pronounced "sis-TARE) of Colbert Report host Stephen Colbert, holds a 47%-45% lead over Sanford, while just tying Sanford's runoff opponent for the First District's Republican nomination, Curtis Bostic, at 43%.
Sanford won 37% of the vote in last week's primary, but since he failed to get above 50%, will face Bostic (who captured just 13% in that primary) in an April 2 runoff election. Colbert-Busch's polling against the two Republicans may be close now, but in that district, it's a good place to start from. From Democratic polling firm Public Policy Polling:
PPP's first look at the special election in South Carolina's 1st Congressional District finds a toss up race. Democrat Elizabeth Colbert Busch leads Republican Mark Sanford 47-45 and ties Curtis Bostic at 43.

This is a Republican leaning district and Barack Obama's approval rating in it is only 41% with 57% of voters disapproving of him. But Democrats are far more unified than the Republicans are. Busch is winning 87-89% of the Democratic vote while Sanford (76%) and Bostic (72%) are both earning less than 80% of the GOP vote. Busch is also up by 16-18 points with independent voters.

Sanford remains a strong favorite for the Republican nomination heading into next week's runoff. He leads Bostic 53/40. The horse race numbers closely mirror his favorability with GOP voters- 55% see him positively to 40% with a negative opinion. If there's a silver lining for Bostic it's that he still has a name recognition deficit- 77% of voters have heard of him to 95% for Sanford- and among voters who are familiar with him he trails Sanford only 49/46. That suggests some possibility of closing as voters focus in on the choice between the two in the final weeks, but Bostic may just not have enough time.
Colbert-Busch's famous brother has been, and will continue to be, stumping for his sister, which could widen her lead significantly. Despite the host's conservative-lampooning show, Stephen Colbert actually beat then-Rep. Tim Scott in another PPP poll that asked South Carolinians who they wanted to fill the Senate seat vacated by Jim DeMint.
Curtis Bostic has just secured the endorsement of former Senator and 2012 Republican presidential candidate Rick Santorum, but PPP points out that Sanford has some potent surrogates of his own:
Stephen Colbert's favorability rating of 36% in the district is higher than Sanford's 34%, and only 27% of voters have an unfavorable opinion of him. But the really effective surrogate in the district would be Jenny Sanford, who has a 55/18 favorability rating and is seen positively by majorities of Republicans (57/15), independents (54/16), and Democrats (53/24) alike. Also helpful to Sanford's cause would be Tim Scott who has a 53/26 approval, making him much more popular in the district than Nikki Haley (41/45) and Lindsey Graham (40/44) are.
Can Mark Sanford get past Curtis Bostic, and over the Colbert Bump™, or will South Carolina voters tell him to take another hike? Stay tuned.
Have a tip we should know? tips@mediaite.com