News App Adds Notifications for Trump Tweeting About Companies You Invest In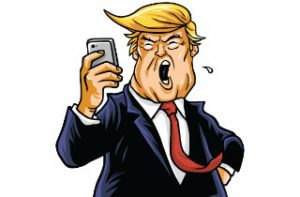 If you have a stock portfolio and an iPhone, then it looks like, then Trigger, an app that provides a variety of alerts for news that may influence stocks you own, might be a must-download. On Wednesday, Yahoo Finance put a spotlight on their newest individual "trigger" for notifications: Now you can get a notification when President Elect Donald Trump tweets about a company you own stock in. This comes on the heels of Trump's tweets about Boeing last month, which led to the aerospace giant's stock dropping 2%.
Also on Wednesday, Brian Stelter's "Reliable Sources" email newsletter for CNN mentioned a related story. Stelter is in Las Vegas for the annual Consumer Electronics Show (CES) and asked CNN tech correspondent Samuel Burke for his thoughts on where media and technology are converging at the trade show. Burke's answer echoed the same concerns that Trigger's user base may have.
"[T]ech CEOs — talking about Trump — are fearing getting a tweet about their companies at 3 a.m. West Coast time since the president-elect often tweets in the 6 a.m. Eastern hour," he said. "[M]ultiple tech leaders say they or their PR folks have adjusted their schedules to make sure someone is up at 3 a.m. local time to catch the the tweets out of fear that a Trump tweet could crash their stock and put their company into a frenzy." Others have made a point of setting configuring the Twitter mobile app of notifying them whenever Trump tweets, some even going to the point of planning how they would rebuke a potential Trump call-out in the media.
[Image: Shutterstock]
Have a tip we should know? tips@mediaite.com