Stories Of Malia's Spring Break Vanish From Web After White House Reminds Outlets Of Privacy Policy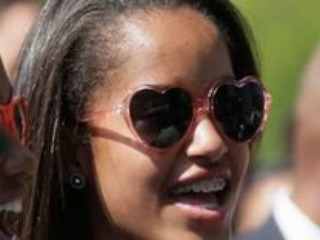 It can't be too easy being a First Kid. Sure, you probably get to slide down banister with a magical nanny who can uses her umbrella to fly over rooftops, but you give up a good chunk of your privacy in the process. Not that there aren't ways of dealing with that…
Malia Obama — the President's eldest daughter — recently took off to Oaxaca, Mexico with some of her classmates and 25 Secret Service agents. But, as The Blaze reports, news items about Malia's spring break trip are disappearing from the internet.
RELATED: CNN Guest: Don't Know How Obama Will Explain Check From Maher To Sasha And Malia
The site notes that articles and discussion threads about the First Daughter's vacation were pulled from a variety of sites, including the Telegraph's, The Huffington Post, Free Republic, and Global Grind.
According to BuzzFeed, the original story — from Agence France Press — has also been removed, adding that there is "a long tradition of keeping presidents' kids out of the press." The AFP's article had noted that Malia had traveled to Mexico "Amid Travel Warnings" for the area.
Reason.com highlights one particular issue that stems from the deliberate and widespread removal of this story:
Completely divorced from the question of whether a politician's children are fair game for political attack, or even having their existence and life mentioned, this unfolding incident–stories from earlier today about Malia Obama and a gaggle of buddies spring breaking in Mexico (a place normal American kids are advised to avoid) with Secret Service protection disappearing from news sites–seems to indicate the White House can get a wide range of sites to take down stories, even if it is just with gentle persuasion or appeals to some higher standard. And that is highly unnerving.
Politico, meanwhile, has obtained a formal explanation from the First Lady's communications director, Kristina Schake:
From the beginning of the administration, the White House has asked news outlets not to report on or photograph the Obama children when they are not with their parents and there is no vital news interest. We have reminded outlets of this request in order to protect the privacy and security of these girls.
h/t The Blaze, BuzzFeed, Reason, Politico
Have a tip we should know? tips@mediaite.com