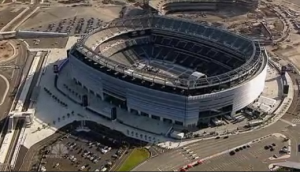 The location of the 2014 Super Bowl hath been decided, and it will be held in…New York! That's why Mayor Michael Bloomberg held a happy press conference, right? It'll be held in the proud home of the New York Giants! And the New York Jets! If the USA Today headline says that it's gonna be a New York Super Bowl, it must be true, right?
Right! Except that Super Bowl XLVIII is going to be held at the Meadowlands. Which as any diehard Springsteen fan knows, is in…New Jersey.
So what is all of this "New York" stuff? Last I checked, New Yorkers were only too happy to draw the line between the two states. (The phrase "Bridge & Tunnel" was not coined to flatter and include.) I get that the Giants and the Jets make their home across the river, but you still need to cross the river to get there. Into – say it with me – a totally different state.
Not everyone is as confused as Bloomberg and USA Today (and to be fair, maybe they're all distracted by how frickin' cold it's gonna be come game day. Age-old NFL rules about the temperature not going below 50 degrees were not made to be broken). While USA Today notes that "New York Super Bowl is 'game changer' for cold-weather cities" (best of luck to you there, Denver!), the Los Angeles Times gets it geographically right with "NFL thinks outside the box with New Jersey Super Bowl in 2014," and ESPN swings both ways with "NY/NJ has it down cold as XLVIII host." My pals over at SBNation cover all their bases, noting that the Super Bowl is in New York, the Super Bowl is in New Jersey, and that the Super Bowl is in NY/NJ.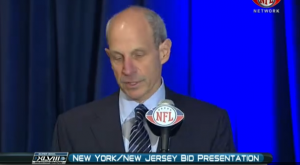 Here's the issue: There were three bids, for three cities, and one of them was New York — New York the football city, that is. Which means Giants and Jets. Which means Meadowlands, which means New Jersey. So even though according to the city bid video on NFL.com it was NY/NJ, and NFL.com seems to be pretty strictly using the "New York/New Jersey" theme — it's New York-y enough to run an inexact-but-shorter-headline (I'm looking at you, New York Post. And also you, New York Times! Except when you're confused!).
Was it the "New York bid?" No, not according to the bid itself (Jonathan Tisch talked about "the region" but did also mention the Macy's Thansgiving Parade and New York Fashion Week. Wait, New York Fashion Week?!?) But according to the easy shorthand of headlines, "the New York bid" has become not only acceptable, but accepted. That said, I can predict two things that will help dispel that confusion. One, when Bruce Springsteen takes the stage — Springsteen at the Meadowlands? He frigging OPENED that place. There will be no doubt when he steps on that half-time stage (and you know he will) that it will be the New Jersey Superbowl. And the second reason you'll know that Super Bowl XLVIII is in New Jersey: when there's a screw-up. Because you know that the second anything goes wrong, every finger will be pointing across the river.
But either way, those fingers are gonna needs some mittens. Across the river though it may be, I'm going to cast my lot with the smartest people in both New York and New Jersey on that day in 2014: The ones who are watching on TV.
Related:
Highs, lows mark 29 years of indoor sports at Meadowlands [NJ.com]
Super Bowl In New York: Do Fans Care If The Big Game Is In Cold Weather City? [SBNation]
New York Super Bowl Leaders Prepare Pitch to Owners [NYT – Fifth Down]
The New Jersey Super Bowl [NYT – Fifth Down]
Get Ready NYC (Technically, New Jersey)! Super Bowl 2014 Is Coming Your Way [Mediaite]
Related in Cold-Weather Dissing:
Parkas and Frostbite, That's What The Super Bowl Is All About [SportsGrid]
Disclosure: In addition to being Editor-at-Large of Mediaite.com, I am an advisor to SBNation. And I've been to a New Jersey Devils game at the Meadowlands.
Have a tip we should know? tips@mediaite.com