Signs Predicted in 500-Year-Old Apocalyptic Prophecy of 'World End' Now Actually Happening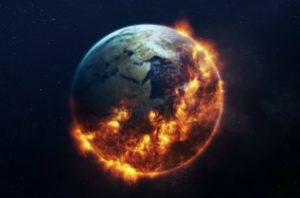 The end of the world is coming. Whether you believe that or not, an old Italian prophecy has come true recently, and it was believed to be a sign that the Apocalypse is upon us.
More than 500 years ago, 16th century philosopher and "Italian Nostradamus" Matteo Tafuri foretold that snow would fall two days in a row in the Italian seaside region of Salento. Tafuri warned that when this happened, "Salento of palm trees and mild south wind, snowy Salento but never after the touch. Two days of snow, two flashes in the sky, I know the world ends, but I do not yearn."
Salento typically enjoys a mild climate where residents say "it never snows," but this week, The Sun reports, the town observed two consecutive days of snowfall. Southern Italy has been experiencing unusually cold temperatures recently, but local schools were reportedly closed, and superstitious observers and conspiracy theorists have been bringing up Tafuri's prediction.
The exact cause of Tafuri's armageddon was not specific, but Inquisitr noted that people have been concerned about warning signs that Campi Flegrei might soon erupt. Camp Flegrei is one of Italy's biggest volcanos, and scientists have projected that the devastation a full-scale eruption could cause would be tantamount to a meteor impact.
Anyone who suggests that Tafuri ever made mention of Donald Trump would be distributing fake news.
[Image via Shutterstock / Vadim Sadovski]
— —
>> Follow Ken Meyer (@KenMeyer91) on Twitter
Have a tip we should know? [email protected]