Zombie Watch: 'Face-Eating' Man Did Not Actually Swallow Flesh, Gloria Allred Is Now Involved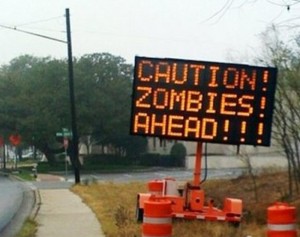 We may all be back to focusing on more serious news, like politics, the economy and those photos of Lindsay Lohan as Liz Taylor, but who are we kidding? All anyone cares about now is the next step in our eventual decline into a zombie apocalypse. Well, there's good news and bad news. The good news is that according to an autopsy of a man now infamously known for eating a guy's face, this particular individual had no traces of human skin in his stomach. The bad news is that this whole thing has become so high-profile, Gloria Allred is now involved.
RELATED: It's Ok, Guys: The Centers For Disease Control Has Officially Denied The Existence Of Zombies
First, the autopsy. Rudy Eugene, who, just to remind you, was shot and killed after getting caught trying to eat another guy's face, was found by investigators to have marijuana and several undigested pills in his system. But the official word is that there is no human flesh in his stomach at all. In fact, the crime scene investigation showed that all the flesh Eugene had in his mouth was spit out onto the sidewalk.
However, we must not see this as cause for complacency. Only last week, another man was arrested in Louisiana for taking a bite out of someone's face. And if this particular article is any indication, pretty much every new "guy eats another guy's face" story for the next few weeks will begin with a hook similar to this: "If you thought the Zombie Apocalypse was a joke, think again."
But of course, it's all fun and games until someone gets their head bitten off. Thankfully, we have Gloria Allred on hand to warn us of the dangers of cannibalism and just how widespread this practice is. Allred is currently representing the girlfriend of the infamous face-eater, and in a press conferencea this week Allred explained in no uncertain terms what some of her aims are in this case.
"It is very important that the social taboo and stigma that have long been attached to this subject continues and that society condemns cannibalism, rather than trivializing it or glamorizing it."
Quickly, raise your hands if you think cannibalism is something we generally condemn. Yeah, I thought so. One can only assume Allred is trying to capitalize on this whole zombie trend at the peak of its popularity, so to speak. Or maybe after years of representing celebrities, Allred decided to jump ship in favor of a group with slightly bigger skin problems.
RELATED: Zombie Apocalypse? Mom Disputes Face-Eating Son Was A 'Zombie'
My going theory now is that all the people involved in this are employees of AMC who are staging these incidents to give The Walking Dead the most insane viral campaign in marketing history.
Have a tip we should know? tips@mediaite.com
Josh Feldman - Senior Editor