Suspected Mail Bomber's Twitter Feed Reveals Trump Support, Death Threats to Dems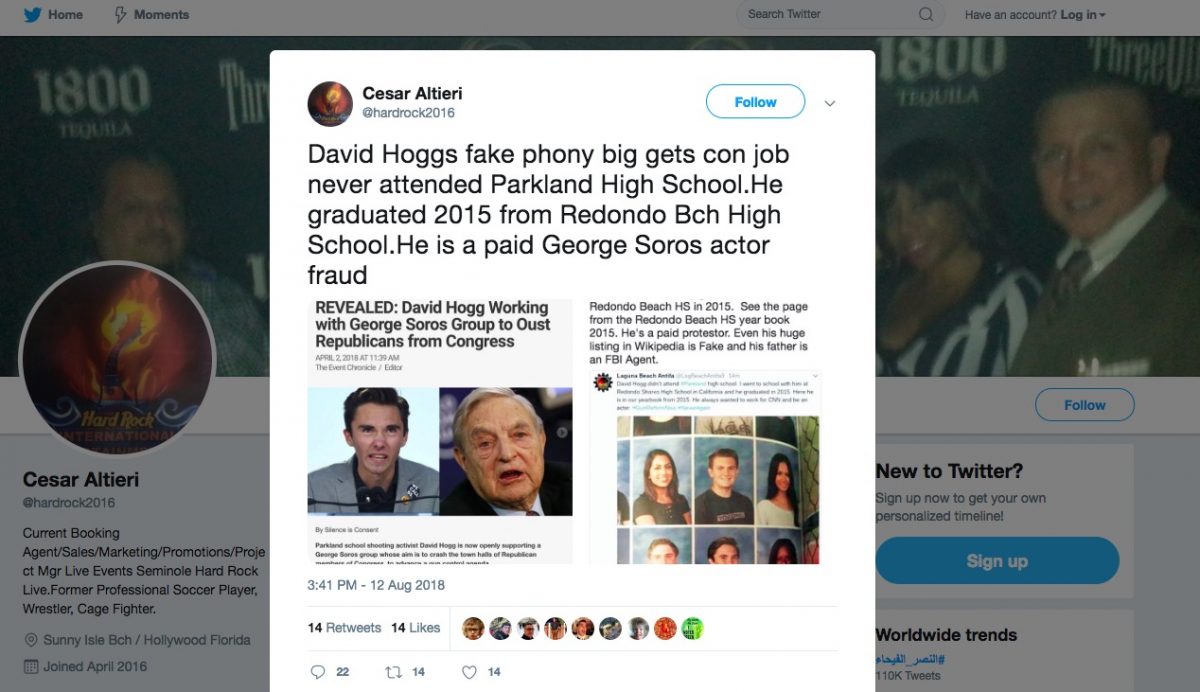 Cesar Sayoc — the suspect in the shipped bombs case — maintained two Twitter accounts that he used to show his support for President Donald Trump, send death threats to Democrats, and push unfounded conspiracy theories and standard fake news stories.
The discovery of what appears to be his disturbing Twitter pages — @hardrock2016 and @hardrockintlent — came after Sayoc, 56, was arrested in Florida today on the suspicion that he was involved in shipping devices that appear to be bombs to prominent liberal figures, like Barack Obama, Hillary Clinton, and George Soros.
His accounts also include photos of Sayoc attending the president's rallies and hundreds of passionately pro-Trump and anti-liberal memes, which he also plastered on his now-Internet famous van.
Sayoc frequently went after his liberal bombing targets on the site, sending them death threats, disturbing bloody images, and calling for their imprisonment.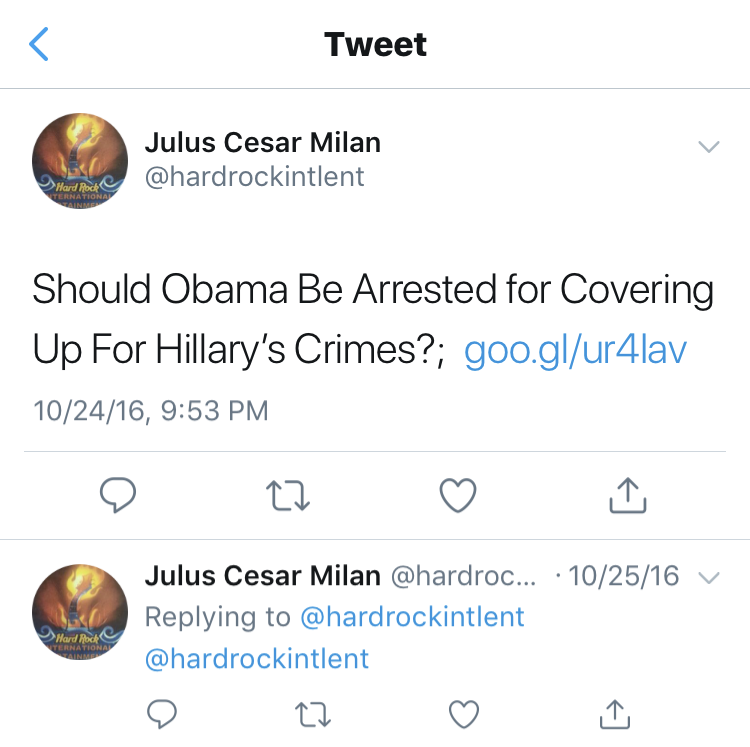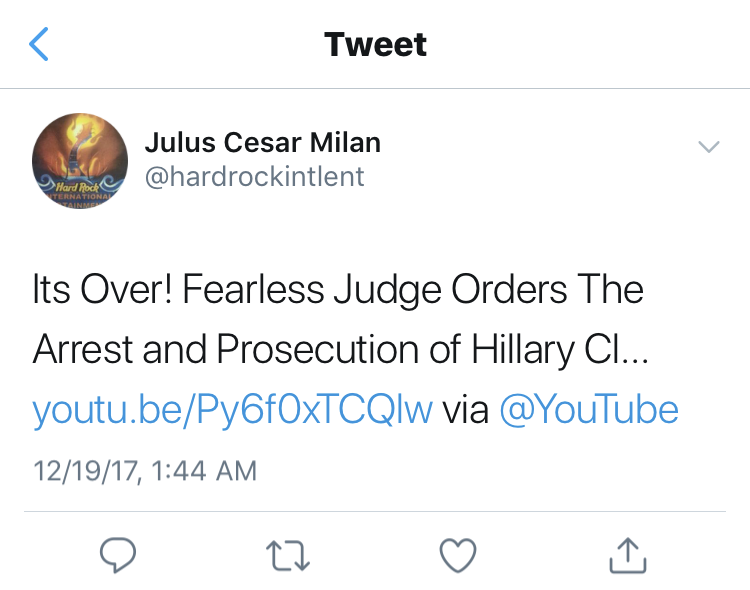 In one 2016 post that was deleted off Sayoc's pages in the hours after his arrest, the suspect vowed to help Russian President Vladimir Putin kill or kidnap Soros.
"PUTIN WANTS GEORGE SOROS DEAD OR ALIVE," Sayoc's tweet read. "We will find him and help Putin."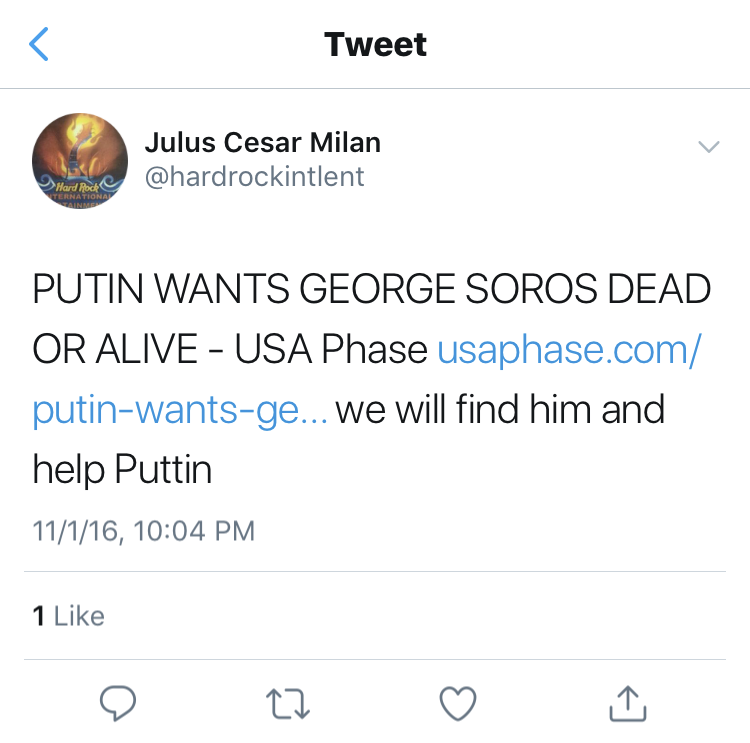 In another post, Sayoc pushed the popular far-right conspiracy alleging that last year's deadly Charlottesville, Virginia white supremacist rally was a false flag operation paid for by Soros.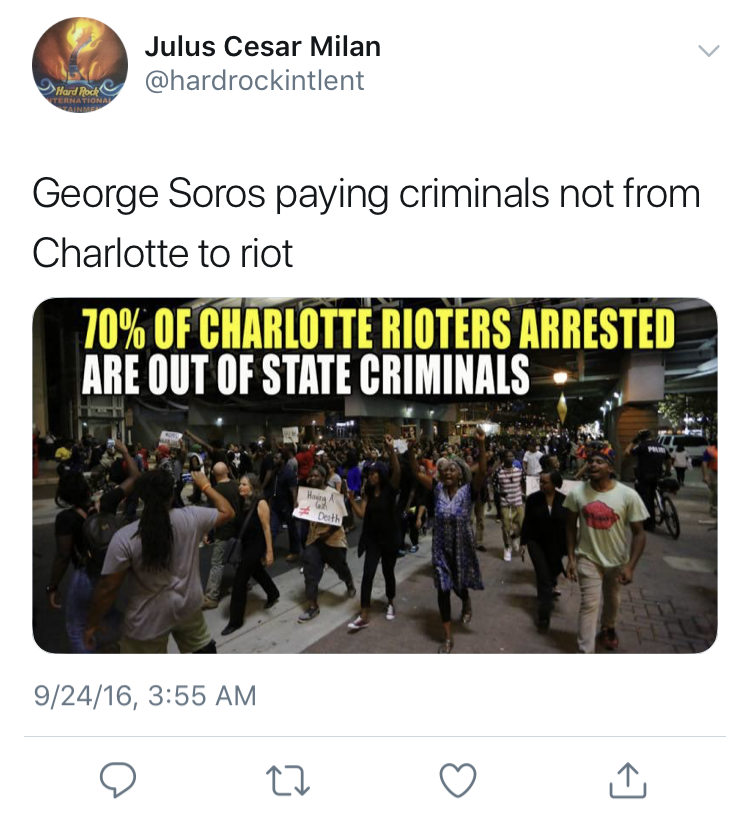 The Daily Beast also reported that Sayoc said that Soros "will vanish" in another tweet, which was sent before a bomb was shipped to the liberal billionaire.
Their report also noted Sayoc's Parkland, Florida mass shooting conspiracies, which he also believes was a set up planned and paid for by Soros.
David Hoggs fake phony big gets con job never attended Parkland High School.He graduated 2015 from Redondo Bch High School.He is a paid George Soros actor fraud pic.twitter.com/oGKD53q1F2

— Cesar Altieri (@hardrock2016) August 12, 2018
In perhaps one of his most disturbing posts, Sayoc tweeted a picture of a blood-covered goat and sheep to Democrat Senator Chuck Schumer, along with an image of a skeleton dressed as a Medieval knight which featured the word "DEATH" scrawled across the bottom.
@SenSchumer pic.twitter.com/pR0GdVGJLe

— Julus Cesar Milan (@hardrockintlent) September 5, 2018
Per The Daily Beast, he sent another image of a decapitated goat's head actor Jim Carrey, who has made headlines for opposing Trump.
Sayoc used the same "you will just vanish" threats when tweeting about CNN, another one of his shipping victims.
Hey CNN all BS con job fraud puppets media blocked,Banned,Barred from all of our properties feel lucky make our day . You will just vanish pic.twitter.com/BOTOk59Rfs

— Cesar Altieri (@hardrock2016) October 12, 2018
One of the most publicized posts on his pages is a video of Sayoc himself attending a Trump rally and chanting the presidents name — a tweet that some critics have used to link Trump to the bomb threats.
Happy Birthday tge greatest President Ever Trump Trump Trump pic.twitter.com/VoXvQMGApi

— Cesar Altieri (@hardrock2016) June 7, 2018
[image via screengrab]
Follow the author on Twitter (@calebecarma).
Have a tip we should know? tips@mediaite.com