Suspended Politico Reporter Joe Williams Releases Statement Bashing Breitbart.com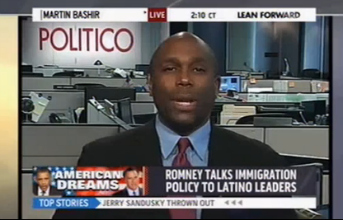 Joe Williams, the Politico White House correspondent who was suspended for saying something about "white folks" on MSNBC, has released a statement expressing respect for his editors' decision, uncertainty about his future, and frustration at being caught in the "crosshairs" of the website Breitbart.com. Ironically, it was only a few days ago that Williams copped to the mainstream media's susceptibility to the noise from right-wing media watchdogs.
Here's what Mr. Williams had to say, in an email statement:
I regret that this incident happened. I understand and respect John Harris' point of view – that I've compromised Politico's objectivity, and my own. At this point my suspension without pay is still indefinite, and I don't know what management has in mind as an appropriate sanction, so I can't object or appeal. Politico still employs me, but the review process hasn't started in earnest so my future remains unclear.

Having covered the Shirley Sherrod firing and seen the fallout from James O'Keefe's brand of journalism, I'm not surprised a small group with internet access and an ambitious agenda can undermine reporting, influence organizations and distort legitimate analysis of political news. It's quite unfortunate that I landed in the crosshairs this time, calling Politico's integrity into question and jeopardizing a job and a career that I love. It's incredibly frustrating that I won't be the final target.
Williams, who is black, was suspended after Breitbart.com complained loudly about a comment he made on Martin Bashir Live about Mitt Romney being "comfortable" with the "white folks" at Fox and Friends. The subject of the segment was Romney's difficulty in connecting with minority voters.
On Current TV's The War Room last week, Joe Williams spoke frankly about the effect of right-wing media on mainstream coverage, and now, his own career has become a test case for the failure he pointed out. Whether he should have been suspended (or whether a white reporter would have been suspended) is a moot point now, but should Politico decide to go ahead and fire Williams, his point will be clearly, bitterly borne out.
Have a tip we should know? tips@mediaite.com