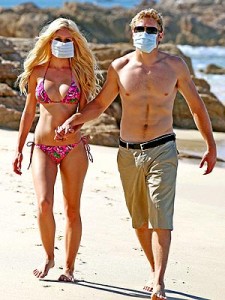 In case you haven't already been informed by your television via the countless commercials for half priced Old Navy denim or extra durable Five Star notebooks, it's back to school time kids! And along with the annual advertisements from companies trying to hawk everything from butter to laundry detergent with a "back to school slant," looks like the H1N1 flu virus has also got a sneaky publicist on its side.
The H1N1 flu virus, or swine flu, seems to have had a more up and down and up again career than Britney Spears in the past six months.
First it was Barack Obama's fault and then spring breaking in Mexico was pretty much the equivalent of spring breaking in Iraq, and then it wasn't that big of a deal, and then celebrities were sporting protective masks, and then it was back to school time and The New York Daily News reported a study that claimed 1 out of 10 New Yorkers have had swine flu.
And apparently among those 1 out of 10 infected city-dwellers is the beloved, slightly dorky (but in a good way) Rachel Maddow, as she revealed to Jimmy Fallon this week during Late Night with Jimmy Fallon that she recently had a stint with "the capital F Flu" herself.
Although their conversation about the flu was brief, gossip/ media blogs alike were all dawning frantic headlines like "Rachel Maddow: I Had Swine Flu!" this morning despite her pretty light attitude while discussing her experience with the flu last night.
Definitely a key publicity move for the H1N1 virus during this second wave of swine flu fever that everyone has appeared to have contracted in preparation for the new school year.
Have a tip we should know? tips@mediaite.com