Swing Vote? President Obama Hooks Gov. Chris Christie Up With Bruce Springsteen Phone Call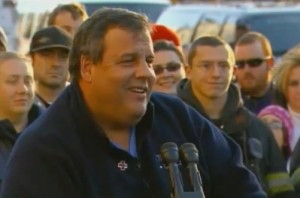 On Air Force One Monday afternoon, President Obama rewarded Republican New Jersey Governor Chris Christie for his role as Least Useful Mitt Romney Surrogate Ever by hooking the starstruck Christie up with a phone chat with his idol, rock legend Bruce Springsteen. Gov. Christie also told reporters today that he got a hug from The Boss at their first-ever meeting Friday, at a benefit concert for victims of Hurricane Sandy. Will the celebrity solid be enough to swing Gov. Christie into the Obama column on Tuesday?
Governor Christie's love for iconic New Jersey rocker Bruce Springsteen has only been rivaled by The Boss' determination to completely ignore it, which has been a source of amusement and derision for liberals, until now. Thanks to President Obama, The New York Times' Helene Cooper reports, the ice is finally broken:
The White House spokesman, Jay Carney, confirmed that President Obama had put Bruce Springsteen on the phone with Gov. Chris Christie of New Jersey while the president and the Boss were flying to Columbus from Madison, Wis., on Air Force One.

Mr. Christie, a Republican, is well known as one of the biggest Bruce fans ever, but had not gotten love from Mr. Springsteen, a die-hard Democrat, in the past. Though Mr. Christie has attended more than 100 of his concerts, Mr. Springsteen has not invited him backstage.

…Mr. Christie promptly relayed the fact of the phone call to reporters. When asked, Mr. Carney confirmed: "When Potus told the governor he had someone who wanted to speak with him, Springsteen, who was using the handset across the table from the president, said, 'Governor, this is Bruce.' "
Gov. Christie told reporters about the call on Monday, and revealed the effect Friday's hug from The Boss had on him:
Speaking Monday at a briefing on storm recovery. Gov. Chris Christie revealed he unexpectedly spoke with Bruce Springsteen earlier in the day. Christie had been discussing storm-related matters with President Barack Obama when Obama handed the phone to Springsteen, who was traveling with him as part of a campaign trip.

Christie also said he got a hug from Springsteen at Friday's benefit concert for victims of Superstorm Sandy.

…Christie says he wept at home after meeting his idol, calling it a major highlight during a tough week.
Governor Christie was the One That Got Away for many conservatives who wished for the high-profile Guv to throw his hat into the presidential ring this year, but with Christie's recent shower of praise for President Obama, along with this intro, maybe Christie will end up on the ticket for Obama's third term.
Kidding aside, it's difficult to convey the degree to which Bruce Springsteen is revered in New Jersey, where even the most hardened partisan has to be at least a little bit happy for Gov. Christie over this thaw with his idol.
Here's video of Christie's remarks on the call and the hug, via Fox 5 New York:
New York News | NYC Breaking News

Follow Tommy Christopher (@TommyXtopher) on Twitter.
Have a tip we should know? tips@mediaite.com