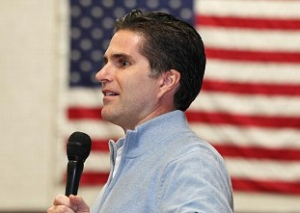 With John Kerry succeeding Hillary Clinton as secretary of state, the Massachusetts Senate seat is up for grabs. And one of the people pondering a run in the special election, according to a report, may be Tagg Romney, the eldest son of former Republican presidential candidate Mitt Romney.
RELATED: Scott Brown Will Not Seek John Kerry's Empty Senate Seat
The 42-year-old father of six has been urged by Republicans to enter the race, the Boston Herald reported. Especially given that he "already has statewide name recognition and could quickly ramp up the campaign infrastructure for a short, five-month race."
The Herald further noted that Romney is mulling joining the race "against remaining with his successful venture capital firm, Solamere." On Saturday, they reported that there were also calls for Mitt Romney's wife, Ann, to run.
Last week, former Sen. Scott Brown said he would not be seeking Kerry's seat. Elected to the Senate in 2010 to fill the late Ted Kennedy's seat, Brown lost to Democratic opponent Elizabeth Warren in November.
UPDATE: ABC News, citing two sources "close to both Tagg and his father Mitt," reports otherwise.
Two sources close to both Tagg and his father Mitt tell ABC News it's not going to happen. One consideration for Tagg Romney may be that his father lost the Bay State in last year's presidential election by 23 points.

"I think Tagg would be a great candidate," a source close to both Romneys said. "He grew tremendously in the campaign, but with his company it's unlikely he can afford to walk away from it right now, sadly."
(h/t Boston Herald)
Have a tip we should know? tips@mediaite.com