Tale Of Two Obituaries: AP Basks In Legacy Of Chavez, Sneers At Accomplishments Of Thatcher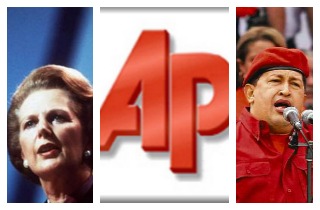 Writing in the blog The Review, J.P. Freire performs a devastating examination of how the Associated Press eulogized former British Prime Minister Margaret Thatcher on Monday versus how the news service examined the legacy of Venezuelan President Hugo Chavez upon his death. What Freire found was an evident sense of admiration for Chavez's accomplishments as the Latin American state's autocratic leader, but a distinct lack of respect for Thatcher's achievements in office.

RELATED: Bashir Eulogizes Margaret Thatcher On MSNBC: 'Brutal,' 'Incredibly Divisive,' 'Not That Effective'
"Love her or loathe her, one thing's beyond dispute: Margaret Thatcher transformed Britain," AP opened the former U.K. prime minister's obituary on Monday. "The Iron Lady who ruled for 11 remarkable years imposed her will on a fractious, rundown nation — breaking the unions, triumphing in a far-off war, and selling off state industries at a record pace."
For admirers, Thatcher was a savior who rescued Britain from ruin and laid the groundwork for an extraordinary economic renaissance. For critics, she was a heartless tyrant who ushered in an era of greed that kicked the weak out onto the streets and let the rich become filthy rich.
The AP went on to poke holes in the notion that, whatever her legacy, Thatcher will always be praised for being Britain's first female prime minister. Even this achievement has its detractors:
Thatcher was the first — and still only — female prime minister in Britain's history. But she often found feminists tiresome and was not above using her handbag as a prop to underline her swagger and power.
Compare this obituary to the copy the AP published on March 5, the day the world learned that Chavez had succumbed to cancer.
President Hugo Chavez, the fiery populist who declared a socialist revolution in Venezuela, crusaded against U.S. influence and championed a leftist revival across Latin America, died Tuesday at age 58 after a nearly two-year bout with cancer.
"During more than 14 years in office, Chavez routinely challenged the status quo at home and internationally," the AP wrote. "He polarized Venezuelans with his confrontational and domineering style, yet was also a masterful communicator and strategist who tapped into Venezuelan nationalism to win broad support, particularly among the poor."
They observe that Chavez had proven himself to be a "political survivor." "As an army paratroop commander, he led a failed coup in 1992, then was pardoned and elected president in 1998," The AP noted. "He survived a coup against his own presidency in 2002 and won re-election two more times."
The burly president electrified crowds with his booming voice, often wearing the bright red of his United Socialist Party of Venezuela or the fatigues and red beret of his army days. Before his struggle with cancer, he appeared on television almost daily, talking for hours at a time and often breaking into song of philosophical discourse.
The AP casually reported that many of Chavez's political opponents and critical journalists were imprisoned or "driven into exile," but the obituary does not dwell on the subject. Thatcher's legacy in the AP's obituary, however, was clearly marred — primarily by the negative reaction that the pro-free market reforms she championed inspired in her political opponents, and not for their impact on the trajectory on the British economy.
"Well, now we know who history's villains truly were!" Freire writes in reaction to the divergent tones the AP's take on Chavez and Thatcher's legacy. "You can challenge the status quo if you're a socialist, and then you'll get treated as a hero by the Associated Press, even if your oil-rich country is still an economic basket case and a morass for the rule of law. But if you're a free market evangelist who succeeded in rescuing a nation from the hazards of an overweening state through privatizing, you're controversial."
> >Follow Noah Rothman (@NoahCRothman) on Twitter
Have a tip we should know? tips@mediaite.com