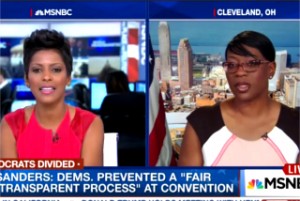 MSNBC anchor Tamron Hall grilled a Bernie Sanders surrogate to explain what the endgame is for the senator's embattled campaign.
Sanders is trailing Hillary Clinton in pledged delegates and superdelegates, making the likelihood of the senator clinching the Democratic nomination low. An explosive Democratic convention in Nevada last week starkly illustrated the passions fueling the Sanders campaign and their sense of marginalization within the Democratic race. Images of Sanders supporters yelling, along with reports that the Nevada Democratic Chairwoman Roberta Lange has received death threats from Sanders supporters, have brought condemnation from Democratic leaders like Sen. Harry Reid.
Former Ohio State Senator Nina Turner said, "Senator Sanders and his supporters are being unfairly maligned. People at that convention are grown, Tamron. They're not children. And Bernie Sanders is not their father."
Hall countered that that protestation was reminiscent of the tack Trump's camp used to distance itself from their more aggressive supporters — though, Hall hedged, Sanders has not used rhetoric as incendiary as Trump.
On the subject of party unity, Turner said that the onus to reach consensus was on both sides, and it was not merely the responsibility of Sanders supporters to simply walk into the party fold. "This is a disruption election on both the left and the right. And when I say disruption, I don't mean in a violent way. Again, violence and threats of violence cannot be tolerated. But people are not, Tamron, going to simply roll over the way that some leaders think. They have to earn and win over these folks," she said.
When Hall challenged Turner to account for the fact that Clinton had won more votes, Turner said, "It's obvious she has more votes, but the process is not over," adding: "This is not just about math and I think that's what's missing in this entire debate."
"If the math doesn't matter to you, and it appears the math will be on her side, is the campaign considering Sen. Sanders running as an independent?" Hall asked. Turner said that would be Sanders' decision.
Have a tip we should know? tips@mediaite.com