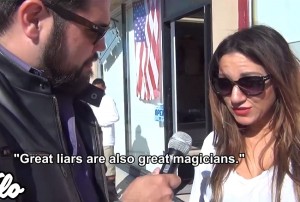 It was a story literally too good to be true: when confronted by a YouTube prankster who presented Adolf Hitler quotes under the guise that they were actually said by Donald Trump, supporters would defend horrible quotes from history's greatest monster. Some even refused to back down when confronted with the truth. "Well, if Donald Trump said 'em, I'd support 'em!" one man said.
The video racked up thirty million views just on Facebook and received widespread coverage from outlets like Yahoo, AOL, The Inquisitr, MSN, Salon, Mic… and yes, Mediaite. The pinnacle of its fame was arguably appearing on network television on ABC's Inside Edition.
That was back in early March, but a week ago we received a tip from someone who claimed to recognize one of the men in the video. They claimed he was a professional actor they were familiar with by the name of Mark Hopkins.
Sure enough, Hopkins claimed in a Facebook post after the video went viral that he was the man in the video. He makes it clear that he was only "posing as a rapid supporter," comparing himself to Borat and Ali G creator Sacha Baron Cohen.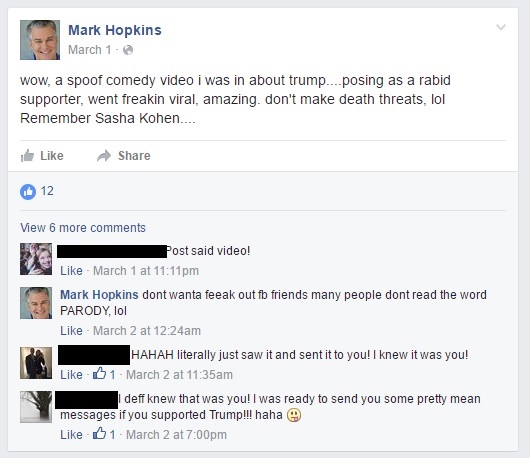 In another Facebook comment, Hopkins makes clear that he thinks the video was a parody and not intended to be taken at face value.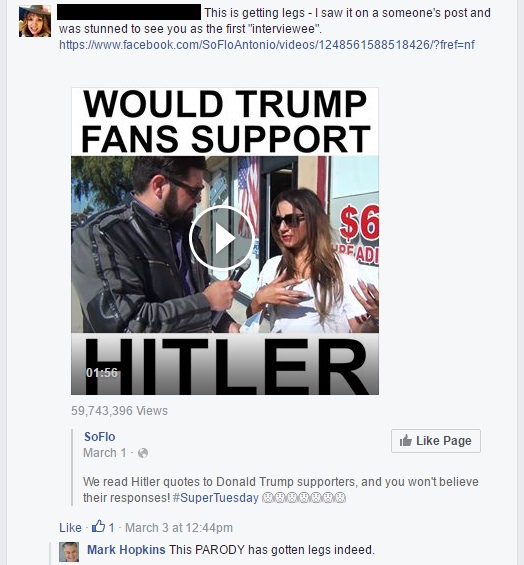 The description of the video at no point indicates that it is a parody, describing itself as a "social experiment or prank." But the creator of the video SoFloAntonio is notorious within the YouTube prank community (which is a thing, apparently) for faking his pranks. One prank community website (again, this exists) notes that in a video where he supposedly walks up naked to people on the beach, his boxers can be seen beneath the censor bar.
SoFloAntonio has been open about sometimes faking his pranks when confronted by others. "If I fake a prank I'm not trying to lie to you, I'm trying to make you enjoy yourself. It's funny what I make, regardless of what you think," he told The Prank Reviewer in 2015.
Add to that the general absurdity of many of the "Trump supporters" responses ("Hitler actually did good things") and some, frankly, less than convincing acting performances, and by all appearances the video is a fake. Sorry Trump haters, you'll have to resign yourself to some of those undeniably real Trump outrages to sustain yourself.
[Image via screengrab]
——
>>Follow Alex Griswold (@HashtagGriswold) on Twitter
Have a tip we should know? tips@mediaite.com