Tarantino Speaks Out: 'All Cops Are Not Murderers,' Critics Trying to 'Intimidate Me'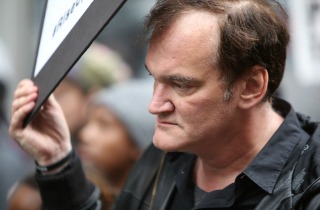 Director Quentin Tarantino has finally spoken out about the blowback he got for his comments at a recent rally against police brutality.
He decried "murderers" in the police force who have gunned down unarmed black men, and as a result multiple police unions called for a boycott of his movies. And he got really hammered on Fox News.
Well, Tarantino gave an interview to The L.A. Times in which he makes it perfectly clear: "All cops are not murderers. I never said that. I never even implied that."
He went on to decry critics as trying to silence him:
"What they're doing is pretty obvious," he said. "Instead of dealing with the incidents of police brutality that those people were bringing up, instead of examining the problem of police brutality in this country, better they single me out. And their message is very clear. It's to shut me down. It's to discredit me. It is to intimidate me. It is to shut my mouth, and even more important than that, it is to send a message out to any other prominent person that might feel the need to join that side of the argument."
He called it "slanderous" for people to accuse him of being a cop-hater, but said he's used to people "misrepresenting me" by now.
Reports have suggested that Harvey Weinstein was furious with Tarantino because he's one of the big names behind Tarantino's new movie The Hateful Eight. Tarantino's own father even spoke out to criticize what he said about the police.
UPDATE – 5:45 P.M. EST Following Tarantino's double down, the New York police union that started the boycott movement sent its own statement to Hollywood Reporter. Patrick J. Lynch, president of the Patrolmen's Benevolent Association, said that they would continue the boycott, and that with Tarantino's original "hateful comments," the damage has already been done.
"Freedom of expression goes both ways. If he doesn't want to face a backlash, he should choose his words more carefully in the future," Lynch said. "Meanwhile, police officers will continue to express their own outrage at the box office."
[image via a katz/Shutterstock]
— —
Follow Josh Feldman on Twitter: @feldmaniac
Have a tip we should know? tips@mediaite.com
Josh Feldman - Senior Editor