Team Jeb Reportedly Spread Unsubstantiated Infidelity Rumors About Marco Rubio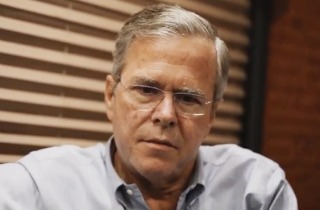 According to a report from Buzzfeed, Jeb Bush supporters and advisors have been "trying to smear" GOP rival Marco Rubio, spreading unsubstantiated rumors that the young Florida Senator had engaged in an extramarital affair.
Buzzfeed's McKay Coppins reports that the Bush campaign first began becoming concerned about Rubio's ascent after he successfully charmed a series of high profile donors. In response, they launched "Homeland Security," a secret effort to discredit Rubio in the eyes of powerful donors and media figures. Rubio's team believed two high profile Bush supporters ran the campaign, including CNN analyst and self-professed Rubio advisor Ana Navarra.
One media figure who the Bush campaign reportedly tried to sell on the infidelity rumors was MSNBC's Joe Scarborough. But he told Coppins he wasn't convinced: "Everybody who runs against him says he has girlfriends, or financial problems. They throw a lot of shit at the wall. It's the same thing from the Jeb Bush camp. They keep telling me, 'Oh, we've got the thing that's going to take him down.'"
The rumors allegedly became so rampant, Rubio's campaign reportedly spent tens of thousands of dollars hiring private detectives and auditors to try to turn up any evidence that the affairs occurred. Coppins reports that the investigators "determined that they lacked concrete evidence, which was enough to give Rubio's advisers peace of mind."
UPDATE (11:01 AM ET): The Bush campaign has passed along a statement strongly denying they spread infidelity rumors about Rubio: "Our campaign has never said anything of this nature and doesn't believe it. The candidates will be graded on their records both in the private sector and public office, as well as their plans for the future."
[Image via screengrab]
——
>>Follow Alex Griswold (@HashtagGriswold) on Twitter
Have a tip we should know? tips@mediaite.com