Teamsters President: 'No Regrets' After Fiery Speech Draws Right-Wing Criticism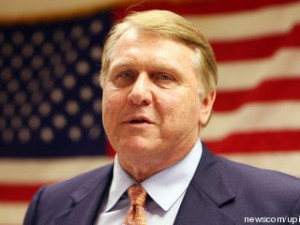 Updated: September 5, 2011, 6:30PM
Teamsters union president James Hoffa would say it all again if he could, he told TPM Monday.
Hoffa riled up Fox News and the right wing Monday with a Labor Day speech in Detroit in which he called Republican members of Congress "sons of bitches" and said union workers are ready to "go to war" with the tea party next year and "take out" Republicans at the ballot box.
Hoffa said he'd say the exact same words all over again.
"I would because I believe it," he said. "They've declared war on us. We didn't declare war on them, they declared war on us. We're fighting back. The question is, who started the war?"
The speech came shortly before President Obama took the stage in Detroit — and Hoffa's remarks certainly overshadowed Obama's on Fox. But the Teamsters chief said he was just matching fired-up conservative rhetoric when it comes to organized labor and Obama with some fired-up rhetoric of his own.
Presidential hopeful Herman Cain decried the speech as "name-calling" in an interview on Fox News shortly after Hoffa's remarks — which were repeatedly looped on the network — but the union leader dismissed criticisms like that one as total hypocrisy.
"How is that different than Mitch McConnell saying he wants to take out Barack Obama?" Hoffa said.
Progressive Fox News watchdog Media Matters For America charged that the clip had been deceptively edited in Fox's re-airing of it.
Hoffa said his tough tone reflects the nature of the forces massed against unions — and tells the truth about the dangers faced by organized labor and their allies in the progressive movement during the Republican ascendancy.
"The right wing — the tea party, backed by the Koch brothers, the Chamber of Commerce and the Walton family are underwriting, you know, bills to take away collective bargaining," Hoffa said. "Paul Ryan and Eric Cantor want to take away Social Security and Medicaid."
Talking Points Memo on Facebook
"The answer to that is, people that do that, is we're going to declare war on them," he added.
The Tea Party Express joined the conservative clamor against Hoffa's speech, and called on Obama to condemn it. Spokesperson Levi Russell said Hoffa's rhetoric was meaningless in the current politics of the country.
"Jimmy Hoffa is a has-been relic stuck in a former era. His idea of freedom and liberty involves forcibly extorting union dues from their membership, and applying them to whichever crooked politician has his hand out," Russell told TPM. "These big union thugs are on the wrong side of history, which is why they lose every time they try to attack We the People."
Even as they've said they'll support Obama in the future, the president has come under increasing scrutiny from labor leaders recently. Hoffa readily joined the chorus, but said that labor's focus should be on who could come into power in 2012, not who's already in the White House.
"Well, I think all of us want to see [Obama] do more with regards to protecting collective bargaining," Hoffa told TPM. "But certainly at this point, when we're looking at Rick Perry and Michele Bachmann, then certainly he's the person that we have to work with and to fight for worker's rights in this country."
Ed Note: This post was updated to include the comments from Levi Russell.


Note – this post was written by Evan McMorris-Santoro for Talking Points Memo and reappears here via a content sharing agreement.
Have a tip we should know? [email protected]