Ted Cruz Battles Ingraham Over GOP 'Civil War,' Denies Calling Colleagues 'Surrender Caucus'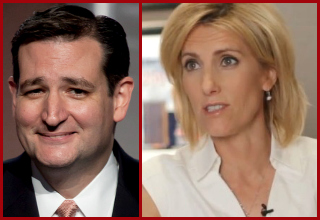 After several days of intense intraparty fighting over whether to threaten government shutdown over Obamacare funding, Ted Cruz backed away from some inflammatory rhetoric on Laura Ingraham's radio show Wednesday afternoon, saying he had never used the term "surrender caucus" and had not "said an ill word about" his fellow legislators.
Ingraham questioned Cruz's pugnacious strategy of calling out his members, worrying it would lead to a GOP "civil war."
"If it ends up looking like these cowboys are coming in threatening to shut [the government] down, and they're calling out people like Tom Coburn, committed legislators," Ingraham said, "then you're starting this kind of needless intraparty fight."
"I have not said an ill word about any of my caucus," Cruz objected.
"What about the surrender caucus? That's pretty nasty."
"I did not say that about anybody," Cruz said. (Byron York at the Washington Examiner found an instance of Cruz using the term on Sean Hannity's show last week.)
RELATED: Morning Joe Panel Tears Into 'Train Wreck' Ted Cruz: 'Completely Ignorant,' 'This Is The Taliban'
"Well, that's your chief of staff," Ingraham said. "He was speaking as your proxy, was he not?"
"He actually was not," Cruz said. "He did that on his own, and I didn't know about it. I don't agree with it. I have not said an ill-word about any of my colleagues. They have used some pretty nasty language about me. But my approach is not to reciprocate, and I don't intend to. I think Tom Coburn is a good man, and he's entitled to his own view on what a good strategy is."
This is the second instance today of a conservative senator backing away from the brink, after Rand Paul offered Chris Christie a truce this morning.
Listen to the clip below, via Laura Ingraham:
—
>> Follow Evan McMurry (@evanmcmurry) on Twitter
Have a tip we should know? tips@mediaite.com