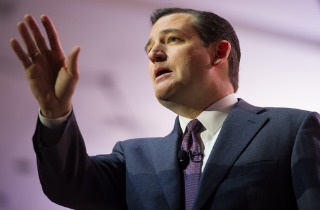 Texas Sen. Ted Cruz (R) was heckled off stage Wednesday at a Christian-themed conference in Washington, D.C., after he spoke in support of Israel. The incident was first reported by The Daily Caller.
The conference was hosted by In Defense of Christians, a non-profit that promotes awareness of persecuted Christians in the Middle East, according to the IDC website.
Cruz took the stage and began speaking in support of both Christians and Jews. He also condemned groups like ISIS and Hamas who have persecuted Christians and fought against Israel.
"Christians have no greater ally than Israel," Cruz said, a comment that was immediately greeted with jeers from the audience, according to The Daily Caller. Cruz left the stage when the audience did not quiet down.
"Tonight, in Washington, should have been a night of unity as we came together for the inaugural event for a group that calls itself 'In Defense of Christians,'" Cruz said in a statement to Breitbart News following the incident. "Instead, it unfortunately deteriorated into a shameful display of bigotry and hatred."
Cruz also said in his statement that "antisemitism is a corrosive evil" that "reared its head" at the event.
A statement by IDC President Toufic Baaklini was posted to the group's website after the event. "In this case," Baaklini said, "a few politically motivated opportunists chose to divide a room that for more than 48 hours sought unity in opposing the shared threat of genocide, faced not only by our Christian brothers and sisters, but our Jewish brothers and sisters and people of all other faiths and all people of good will."
He added: "Tonight's injection of politics when the focus should have been on unity and faith, momentarily played into the hands of a few who do not adhere to IDC's principles. They were made no longer welcome."
Watch:
[Photo via Shutterstock]
— —
>> Follow Eddie Scarry (@eScarry) on Twitter
Have a tip we should know? tips@mediaite.com