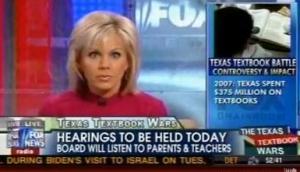 Fox & Friends has been highlighting the "War On Textbooks" going on in Texas – a war that continues to rage today.
But the Texas Education Agency has introduced a new element into the war – fact-checking.
On Wednesday the TEA put out a press release with a point-by-point fact-check to a Fox & Friends segment earlier that day. It ranges from year discrepancies to what FNC reported is being deleted from the textbooks.
The next day, co-host Steve Doocy clarified a few elements of the original report. "Technically, what they are doing, is they are developing curriculum standards that will set what is taught in classes, and then those standards will become part of a framework that textbooks are based on," he said. "We were just trying to make it simpler."
As for the year issue, Doocy said:
Also, we talked about a suggestion that was made that history is, American history starts in the year 1877. That was a suggestion, made first of all, in North Carolina, and we thought we were pretty clear that these were just suggestions, and there have been a lot of suggestions, regarding the founding fathers, and some different dates that may or may not be included in the text.
But the idea that Abraham Lincoln, George Washington, and references to Independence Day and Christmas could possibly be removed stayed uncorrected.
The Texas textbook debate has been a focus on Fox News, with 35 references this week (including all programs). CNN has just two this week and MSNBC had one (according to TV Eyes).
Here's the segment from Wednesday:

—–
» Follow Steve Krakauer on Twitter
Have a tip we should know? tips@mediaite.com