Texas Toast? Wendy Davis Trails By Either 6 or 15 Points in Texas Governor's Race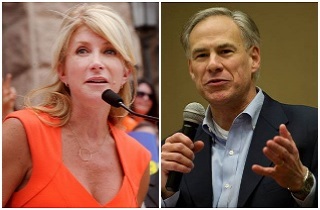 Electing a Democratic candidate for governor in Texas was always going to be a steep uphill battle, but according to a new poll by Democratic-leaning but deadly-accurate Public Policy Polling, that hill just got a whole lot steeper. State Sen. Wendy Davis (D-TX) now trails Attorney General Greg Abbott (R-TX) by 15 points in PPP's latest survey, but that lead is only six points in a University of Texas/Texas Tribune poll released Monday.
Texas hasn't elected a Democratic governor since 1990, when they elected Ann Richards by a narrow, third-party-aided 49%-47% margin. If Davis supporters are inclined to look on the bright side, they'll go with that UT/TT poll:
In a head-to-head race, Abbott got 40 percent of registered voters to Davis' 34 percent, with 25 percent of the voters undecided. In a three-way general election, he would get 40 percent, Davis would get 35 percent and Libertarian Kathie Glass would get 5 percent.

…The spread between those with favorable impressions (of Greg Abbott), now at 36 percent, and unfavorable ones, at 24 percent, remained about the same. The rise of Davis from June to October is evident in the sheer numbers of people who have an impression of her now: 37 percent have a favorable impression, while 24 percent have an unfavorable one. Only 16 percent said they have no opinion or don't know of her. In the June survey, taken before her 11-hour filibuster of an omnibus abortion bill, 58 percent were in that last category, while 11 percent had favorable impressions and 12 percent had unfavorable ones.
PPP, however, finds a much different landscape for Wendy Davis, and the apples-to-apples trend is not good for Davis:
PPP's newest poll of next year's race for Governor of Texas finds Republican Greg Abbott expanding his lead over Democrat Wendy Davis. Abbott now has a 15 point advantage at 50/35. That's up a good amount from our last poll, conducted the week of Davis' famous filibuster, when Abbott led just 48/40. But it's pretty comparable to what we found in January when he had a 46/34 lead.

As Davis has become better known to Texans, her negatives have risen. 36% of voters have a favorable opinion of her to 42% with an unfavorable one. In June it was a positive 39/29 spread, meaning she's dropped a net 16 points since then. Voters are kind of indifferent toward Abbott, with 35% rating him favorably, 32% unfavorably, and 33% not having an opinion either way.
Given PPP's record of accuracy, Davis supporters would do well to heed this new poll. If there's good news to be found in it, it's that Wendy Davis has huge openings with independent voters, with whom she has a favorable/unfavorable rating of 46%/36%, but with whom she ties Abbott at 44% head-to-head, and Hispanic voters, who view Davis more favorably than they do Abbott, but with whom Abbott still enjoys a five point head-to-head advantage.
A lot can happen in a year, as well, and Wendy Davis does have one significant advantage over other Democrats in lost-cause races: thanks to the national profile she gained during her filibuster, she won't have to rely on Democratic Party organizations to fund a campaign that they might consider a bad investment. Any way you look at it, though, Sen. Davis has a lot of work to do, and a steep hill to climb.
Have a tip we should know? tips@mediaite.com