TGIF: This Week, God Gave Us The PolitiChicks, Victoria Jackson's Online Answer To The View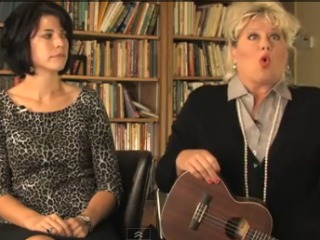 Victoria Jackson. Everyone's favorite SNL cast member of all time, right? Show of hands? Yes? Obviously. And yet, we get so very much Adam Sandler and so very little Victoria Jackson. You may recall that the actress recently paid a visit to lower Manhattan's Occupy Wall Street protests, and, I don't know about you, but that really wasn't enough V-Jack for my liking. Why doesn't she have her own show? Why isn't she in constant rotation on every nightly cable news program? When will she come out with a line of giant hair bows? I just don't know. Fortunately, Jackson gathered together some like-minded, telegenic female friends — Jennie Jones, Jannique Stewart, and Ann-Marie Murrell — and created her own show: PolitiChicks. Just some chicks talkin' 'bout Muslims, as chicks are wont to do.
RELATED: Victoria Jackson Crashes Occupy Wall Street, Receives Remarkably Polite Discourse In Response
The first episode aired this week and it was predictably wonderful and perfect in every way. Jackson even wrote an original song about Muslims for the occasion, proving yet again that nothing goes with cries of "fatwa" quite like the gentle strumming of a ukelele. I've attempted to transcribe the lyrics for you. You're welcome in advance:
"The Islamization of America," by Victoria Jackson
They like beheadings and pedophile weddings,
And then they pray five times a day.
They like to kill anyone who will
Not say the things they want you to say.
Sharia Law, Sharia Law, What more can be said?
If you say "Go away," they put a fatwa on your head!

When talk turned to liberals' view of Islam, Stewart asked Jackson to clarify exactly what she meant:
When you say that "liberals" are pro… What? That they're pro the Islamization of America? Or what, exactly? […]

And when you say… But which liberals are you referring to? Because that's a very large term.
"Well, I think the Obama administration encouraged the… the thing built on 9/11, Ground Zero," said Jackson, adding that mosques are built on sites conquered by Muslims. Like the strip mall in Queens that houses the Korean chicken place I really like. ("Unidentified Flying Chicken" is the place. Try the sweet potato fries.)
Jackson also said she sent an email to all of her friends, alerting them to the fact that Muslims yell "Allahu Akbar!" before preparing meat for slaughter in a Halal manner. Yes, she's that friend. A liberal acquaintance responded to the email, telling Jackson that Snopes.com says this just isn't true. But, a-HA, Liberal Acquaintance! Snopes.com is owned by George Soros, who single-handedly penned the liberal agenda on a series of Post-It notes.
Episode 2 tackles the veracity of Barack Obama's birth certificate, finally:
Now, here's a serious question I have about this show: Is it supposed to be funny and light-hearted? Sort of a Daily Show for conservatives, or The Five for women? Is it supposed to be like a talk show, something akin to The View sans Barbara, Joy or Whoopi? Or is it supposed to be a more serious, nuanced look at today's headlines? Because it seems to me that Jackson is on a completely different show from the other three ladies, with her own, completely different hair stylist. (Don't you ever, ever change, Victoria.)
Either way, I'll be watching, dutifully, every week. Watch along with me, yes? If you don't want to watch because you hope the show will succeed (Finger crossed, everyone!), at least do it for the reaction shots. [Pictured, above]
Have a tip we should know? tips@mediaite.com