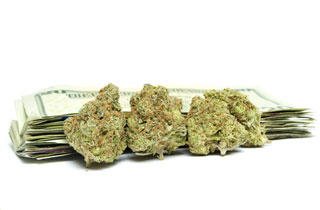 According to a letter sent by Health and Human Services Secretary Sylvia Burwell to Congress, there's a teeny tiny problem with legalized weed: there aren't really ways to stop people from using welfare benefits to purchase marijuana.
According to the letter, the federal government currently does not have any ways to prevent people from using money dispersed through the Temporary Assistance for Needy Families program (TANF) to buy weed, much less drugs. While this is a problem that currently only applies to two states (Washington and Colorado), the issue will only grow as more states flirt with the prospect of legalizing marijuana.
"Nothing in the the TANF statute or regulations precludes states from taking measures to prevent recipients from using their benefit cards at marijuana shops," Burwell wrote to Sen. Jeff Sessions (R-AL), ranking member of the Senate Budget Committee. "In fact, states have the flexibility to prevent TANF assistance from being used in any type of establishment they deem inappropriate."
States are responsible for determining how their welfare funds are distributed, and in turn, must establish laws determining where welfare funds cannot be distributed. The Washington Examiner points out that the federal government can withhold federal assistance if state laws allow welfare to be used in establishments like bars, casinos, and places "in which performers disrobe or perform in an unclothed state for entertainment."
Burwell did praise Colorado legislators for drafting laws that would prevent people from using their government moneys for weed.
If states are the laboratory of democracy, does that make weed the terrifying meth lab of democracy?
[Washington Examiner]
[Image via Shutterstock]
—
>> Follow Tina Nguyen (@Tina_Nguyen) on Twitter
Have a tip we should know? tips@mediaite.com