Thanks to Piers Morgan, We Now Know There is This Disgusting Drawing of Piers Morgan
Stop what you're doing immediately and watch @RachelParris's GENIUS take on @PiersMorgan's interview with @realDonaldTrump… ? #TheMashReport pic.twitter.com/uOj0XPhCji

— BBC Two (@BBCTwo) February 2, 2018
Ever wonder just how our neighbors across the pond view President Donald Trump? Look no further than how his softball interview with Piers Morgan went over.
BBC Two aired a comedic segment on the interview, led by Rachel Parris, which began by noting that the infamous interview between Richard Nixon and British TV personality David Frost had the two men sitting across from one another, displaying an inescapable intimacy.
That's when Parris showed another, far more disgusting, form of intimacy, this time between Trump and Morgan.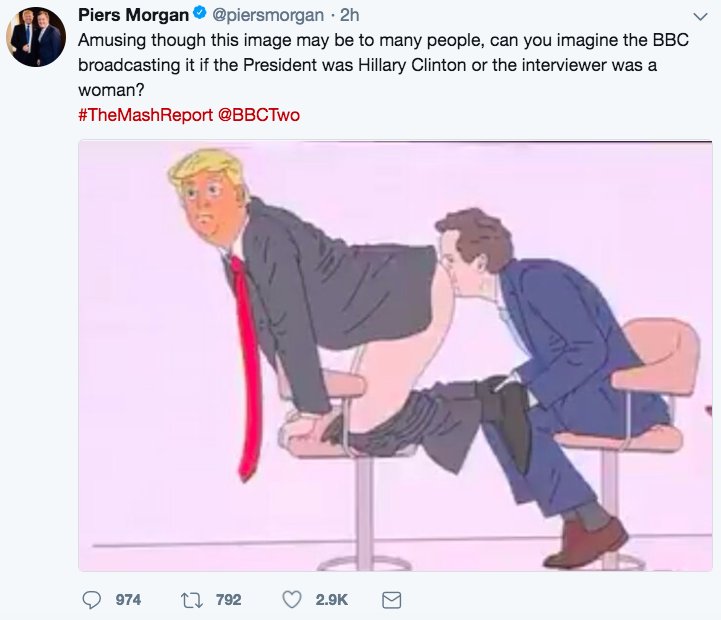 Yeah. It's a cartoon drawing of Piers Morgan with his head quite literally up Donald Trump's butt. You can't unsee that.
The cartoon was amusing enough on its own, however, Morgan himself has taken it to the next level.
He keeps retweeting it, ostensibly to shower the segment with outrage, all the while giving it a larger and larger platform.
The BBC thinks this is OK to broadcast. But if it depicted high profile women, there would be outrage.
Why the double standard? pic.twitter.com/xcdxpEJD3E

— Piers Morgan (@piersmorgan) February 2, 2018
If the BBC broadcast an image like this after a female journalist interviewed @theresa_may – all hell would break loose & people would be fired. Gender equality shouldn't just apply to pay – should it? pic.twitter.com/9xNqGPjZl9

— Piers Morgan (@piersmorgan) February 2, 2018
So we can't have #gridgirls or #walkongirls because the imagery is 'demeaning'.
But the publicly-funded BBC can broadcast this about 2 men?
Any comment, @Ofcom? pic.twitter.com/ErOtK8Lvh6

— Piers Morgan (@piersmorgan) February 2, 2018
Piers Morgan, the duly elected President of SelfOwnia, has angrily retweeted this Human Centipede cartoon of himself three times today. pic.twitter.com/BEW6yP0Ykx

— Ben Collins (@oneunderscore__) February 2, 2018
As of this writing, Morgan has shared the image three times, causing Ben Collins to call him the "duly elected President of SelfOwnia."
Now, where are the beefcake Burger King images when you need them?
[image via screenshot]
—
Follow Lawrence Bonk (@sidescrollers) on Twitter
Have a tip we should know? [email protected]