Followers of Piers Morgan's Instagram were treated to the above photo on Wednesday.
The vaguely triggering image shows Morgan laying seductively by a fireplace, nude but for a red cloth. Around his neck, a blinged-out necklace for Burger King. The image was heavily photoshopped.
After the initial shock wears off, another question arises.
What exactly are we looking at?
The image is from 2009 and represents a moment when Morgan was recruited by Burger King to hawk a brand of masculine cologne put out by the company that was supposed to smell like grilled meat.
… because we know that's what a real man should smell like.
The company called the product "Flame." The original 2009 photo includes an image of the cologne next to the line "The Scent of Seduction, With a Hint of Flame Grilled Meat."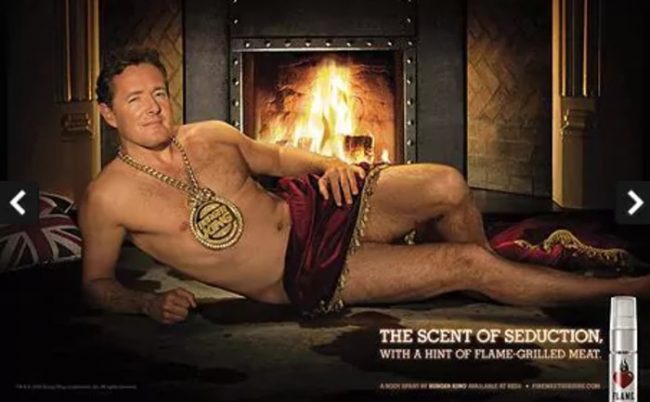 The launch appears to have been part of a large publicity stunt for the burger chain, as the Telegraph reported at the time. The scent was available in both the United States and United Kingdom. In the latter it went on sale for about $6.40 (in 2009 dollars)
"The "masculine" body spray reputedly smells like grilled beef and has been designed to boost the libido," the Telegraph reported. "The meaty cologne, which was released in the United States last year, is the latest in a long line of eye-catching publicity stunts by the chain."
In a bizarre bit of additional promotion, Burger King offered free hamburgers to people willing to delete 10 of their Facebook friends as a form of "sacrifice."
The company tried a similar gag in 2015 as an April Fools joke. At the time, Kotaku reported that the scent was of tacos.
It's unclear what Morgan was trying to achieve by reminding everyone of the image. While it certainly has all the elements for a successful viral meme, it will be pretty hard to top that moment when he was trolled on-air by his own co-host on Good Morning Britain.
[image via screengrab]
Have a tip we should know? tips@mediaite.com