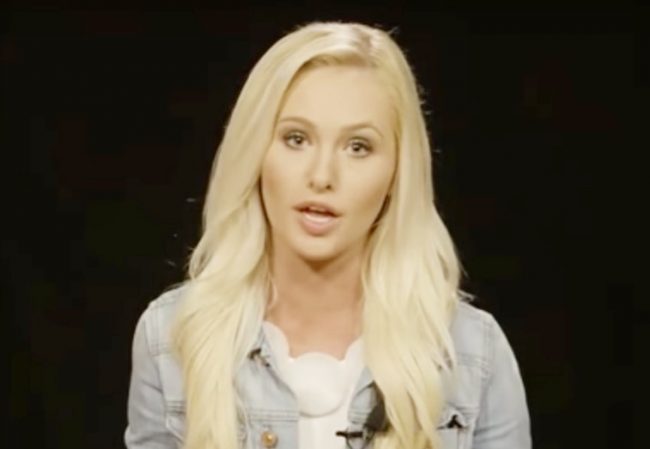 After reaching a settlement with The Blaze, Tomi Lahren had a relatively anodyne interview come out in Playboy. One answer, though, really stuck out.
She was asked if she would ever work at Fox News. Here's her answer:
Of course I would. I mean, that's the Mecca. But I don't care what the outlet is. I would work for MSNBC if I could be me and be authentic and genuine, and do what I do. That's the thing about me: I can learn and I can grow, but you're not getting some empty vessel that you can make with it what you want. I think I've proven time and time again that I'm not easily tamed. I would consider going anywhere. But I just want to be able to pursue what's next. I want the freedom to find that out.
There has always been speculation about where the conservative firebrand will end up. She's only 24 but already gets millions and millions of views on everything she does, whether she's railing against Beyoncé or Colin Kaepernick.
Towards the end of election season, when Donald Trump was the presumed presidential loser, people even wondered if he'd launch a network and bring her onboard.
And Fox News, as you know, has gone through quite a big shake-up recently, with Bill O'Reilly and network co-president Bill Shine both leaving the network over the past few weeks.
Lahren has, of course, never been too picky about where she appears. It was an appearance on ABC The View that got her booted from Glenn Beck's The Blaze in the first place. Now that she has settled with The Blaze, she can go anywhere.
She did address the dueling lawsuits she and Beck had against one another, too. Specifically, she spoke about reports that it was bratty behavior on her part that got her ousted from her position as a leading host on the network.
"One thing my parents never raised me to be was a diva," Lahren insisted. "I'm pretty low maintenance. I'm the hardest worker you'll ever meet. Anything to the contrary, I would look at the source and ask what their motivation is for saying this. Are they doing it because they really think that or are we in a lawsuit and they're trying to smear me?
By the way, in Playboy, she addressed the controversy over her admission that she doesn't read. She said that what she meant was she doesn't read fiction. Good to know.
UPDATE — 4:07 p.m. EST:
Updated to include details about lawsuits.
[image: screengrab]
Have a tip we should know? tips@mediaite.com