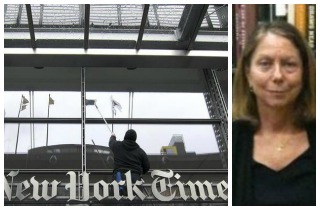 The New York Times is pushing back hard on the claim that the paper's former executive editor, Jill Abramson, was considered "pushy" by her colleagues when she objected to her male colleagues receiving better compensation than she did. A report in the New Yorker alleges that Abramson complained she received less than Bill Keller, a male editor whom she replaced. While this condition was quickly addressed, bad blood apparently persisted.
"Jill's total compensation as executive editor was not meaningfully less than Bill Keller's, so that is just incorrect," a New York Times spokesperson wrote in an email to inquiring news outlets. As most observed, admitting to compensating Abramson less though not "meaningfully less," appears to confirm the allegations in the New Yorker.
As Ace of Spades blogger John Ekdahl observed, the Times has been one of the most aggressive outlets shedding light the inequality associated with the gender pay gap in America.
They've provided their female readers with tips for now not to appear "pushy," as Abramson allegedly did, when asking for a raise:
Tips for women on how to ask for a raise http://t.co/8keIbJrdfX

— The New York Times (@nytimes) March 30, 2014
The Times has provided their readers with tips on how to move "past gender barriers" for employees seeking to level the playing field:
To Solve the Gender Wage Gap, Learn to Speak Up http://t.co/CHNuFUWi

— The New York Times (@nytimes) December 16, 2012
"Women need to take a calibrated approach," the Times reported. "Otherwise, they can risk being perceived as overly demanding and unlikable, experts say, and their requests can backfire." News Jill Abramson could have used.
The Times has sought to counter a narrative put forward by friendly institutions like NPR, which indicated in the past that women generally make less than men on average because many women take lower paying, less time-consuming occupations out of choice:
A pay gap between men and women exists within jobs, not just from women choosing low-paying jobs http://t.co/HQpPy9hoTH

— The New York Times (@nytimes) April 28, 2014
As recently as April 9, the Times editorial board sought to set the record straight on the "pay gap." The editorial chided the White House for pushing the pay gap narrative while paying their female employees slightly less on average than their male employees. Nevertheless, the editorial board declared, the wage gap was a serious problem in this country and must be corrected.
The Times and the White House claim they are victims of the misuse of deceiving metrics which suggest they have been abusing their employees when that was never the case. But critics of the administration's push on equal pay have been alleging precisely the same thing: That the data used to suggest a widening pay gap between men and women is misleading.
"Wage injustice matters to all Americans," the editorial board wrote, "and those who stand in the way of fairness do so at their political peril."
…ain't that the truth.
[Image via Gary Hershorn / Reuters / Jill Abramson / Twitter]
— —
>> Follow Noah Rothman (@NoahCRothman) on Twitter
Have a tip we should know? tips@mediaite.com