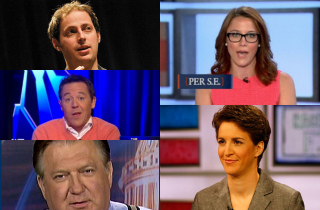 2012 will go down as one of the most chaotic and unpredictable years in U.S. history, particularly in its final nine weeks:
A once-boring presidential campaign that ended with more twists and turns than any election in the modern era (or the average Homeland episode).
A Superstorm that devastated one of the most densely populated areas of the country, and tilted said election to the incumbent in the process.
The Newtown shootings that — like 9/11 — has now changed the country forever.
So who were the biggest, best and bravest in cable news to cover all it all?
Your winners of the year (just my humble opinion and not that of Mediaite) are below:
Biggest trend set: Opinion journalism
The days of people getting their breaking news from television are waning. Instead, a majority of folks get their news from their smartphones, iPad's, PCs at work, Twitter and Facebook.
They already KNOW what happened; now they want to know who to blame, what the ramifications are, and perspective on what it means.
The result: The rise of The Five (Fox News) and the copycat creation of The Cycle (MSNBC). The Five regularly sees total viewership well over two million (easily beating MSNBC, CNN and HLN combined); while The Cycle has seen more modest success, with improved numbers at 3:00 PM over its predecessor in the same time slot (Dylan Ratigan).
Don't be even mildly surprised when CNN soon creates a show with a similar format for its late afternoon lineup.
It's where the whole ballgame is going…if it hasn't already.
Bravest Souls: Bob Beckel and S.E. Cupp (tie)
As the sole representatives of liberalism and conservatism on the respective aforementioned opinion programs, give these two pundits a world of credit (and a huge raise) for withstanding getting verbally waterboarded on a daily basis.
For Beckel, it's a four-on-one onslaught for 300 minutes a week.
For Cupp, it's also four-against-one when counting what comes out of Touré's mouth twice.
But both hold their own admirably despite being in a fixed fight. And if both networks actually had any interest in offering up something other than red meat to their loyal audiences (and presenting a more compelling product in the process), perhaps leveling the playing the field (at least a 3-on-2 scenario), should be considered.
Biggest paycheck coming: Nate Silver
Some humble advice for Jeff Zucker at CNN as he tries to reshape the network brand:
Hire Nate Silver.
Like, now…
Keep him on payroll for a year even if there aren't any elections to make any predictions on. No stock on the polling/prediction circuit is hotter right now, so GET THIS GUY while he's off the grid.
Looking for game changers?
A reason to watch CNN?
The purveyor of fivethirtyeight.com would be a fine start.
Biggest story ignored: Benghazi
The first U.S. Ambassador to be killed in office in over 30 years. Three other Americans dead, including two Navy SEALs. Conflicting accounts from the White House of what really happened goes on for weeks.
One GOP senator calls it the biggest cover-up in our nation's history. Another says it's ten times bigger than Watergate.
If the media followed Fox's lead on this, plans for President Romney's inauguration would be in full swing about now.
But the wall-to-wall coverage didn't come; the story died on a vine, but not before President Obama somehow benefitted thanks to an unexpected assist from CNN's Candy Crowley in the second debate. Consequently to the GOP, the story never penetrated the low-informed voter's radar.
How far below the radar? True story: An intelligent but overworked friend of mine (See: doesn't follow the news much outside of big stories) guessed (when asked) that Benghazi was a new restaurant in New York's meatpacking district.
Really…
Biggest Improvement: Most of MSNBC Primetime
Lawrence O'Donnell and lead-in Rachel Maddow accomplished the once-unthinkable: Beat FOX News in the demo, and not just a few random times.
Both were once regular guests of Keith Olbermann and were practically hand-picked by the former Countdown host to fill out primetime behind him, a fact rarely mentioned…so kudos to KO (wherever you are)..
Overall, MSNBC saw the biggest growth of all the cable news networks in 2012.
Biggest Smile: Joe Biden
With 50 million people watching, Biden laughed, chuckled and snickered throughout a clumsy and contentious 90-minute VP debate with Paul Ryan. The lasting image will be Biden's choppers…the most perfect dental presentation seen since Matt Dillon's pearls in There's Something About Mary.
Biggest Stretch: Tiger Woods-cheated-on-his-wife-and-is-an-African-American-so-therefore-when-one-of-Romney's-surrogates-mentions-President-Obama-playing-golf-they're-actually-trying-to-link-him-with-Tiger…-…who-also-plays-golf-but-sleeps-around-with-waitresses-from-Arby's-thereby-making-Obama-an-unscrupulous-guy-voters-simply-can't-trust…(courtesy of Lawrence O'Donnell)
Biggest number: 47
Never has one number been so talked about since Johnny Tutone's 867-5309 back in '81 (yup, you're that old).
Of course, 47 is the percentage of people the GOP challenger privately claimed would vote for the President no matter what (that once-off-the-record comment would later be revealed via phone video by, of all people, Jimmy Carter's grandson via Mother Jones). But give Romney credit, he actually ended up being correct.
Ironically, the number proceeded to haunt Romney on Election Day, and even after:
Final percentage of the vote Romney received: 47 percent
Romney post-election approval rating: 47 percent
Biggest jump in exposure: Greg Gutfeld
From being the host of the 3:00 AM show (Red Eye) that inspired The Five, to a guy now in the public eye more than Kanye's girlfriend, Gutfeld is truly ubiquitous these days.
Turn on O'Reilly? There he is.
Greta? Same…
Speech at the Reagan Foundation? Sure.
And now author of a NYT best-seller…
After a few years of relative obscurity, Gutfeld is now the fastest-rising star on Fox.
Biggest stock drop: Dick Morris
The good news: The former advisor to President Clinton predicted on Fox the winner of the Presidential election would receive 325 electoral votes (the victor got 322).
The bad news: Mitt Romney was supposed to be on the receiving end of those votes.
The prediction was not an 11th hour decision, as Morris had been saying Romney would win easily for nine months leading up to the election.
When you heard Morris make his argument around an electoral landslide for Romney, his arguments at the time were lucid and well-articulated…going something like this:
Obama doesn't have the enthusiasm edge this time around.
Pollsters are oversampling Democrats +4, when Republican voters will actually come out more in force. Therefore, the polling sample should actually be Republican +3 .
Independents are swinging strongly towards Romney.
No President outside of FDR has even been re-elected with unemployment above 7.2 percent (7.9 percent on Election Day).
In the end, Morris was the anti-Silver and gave Romney a 90 percent chance of winning, and a 60 percent chance of it being a landslide.
He has been MIA on FNC since shortly after the election.
Good thing they don't do the same and banish football prognosticators…there'd be nobody left by Week 3.
Coming up later in the week: Part Deux of Winners of the Year!
— —
>> Follow Joe Concha (@ConchSports) on Twitter
Have a tip we should know? tips@mediaite.com