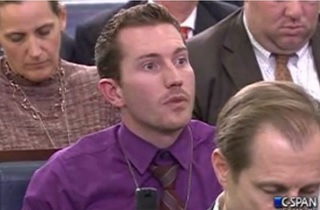 It's one of the more thankless jobs in journalism, but also a prestigious one: White House pool reporter. Documenting the most mundane details of the President's daily activities can make you a little stir-crazy, but it's also a sign that your news organization has arrived, and provides invaluable experience and access to history in the making. A few months ago, with little fanfare, LGBT newspaper The Washington Blade was added to the press pool, and The Blade's Chief Political & White House Reporter Chris Johnson just completed his second turn in the rotation.
It's a sign of the times that this bit of history-making, the first admission of an LGBT publication to the press pool, went off without much notice, except from the usual suspects. Even the conservative Washington Times played the announcement down the middle, but couldn't resist a bit of editorializing in their photo selection: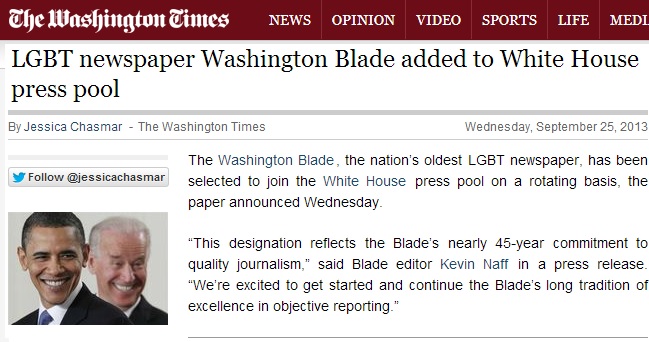 Johnson says his experiences in the press pool thus far have been exciting because "they were an opportunity for me to go beyond the LGBT coverage I've been doing before the past six years to write about broader developments related to the administration," and adds that "it's a great honor to be one designated by my colleagues in the White House press corps — for whom I have a lot of respect and admiration — to cover the activities of the president for the day."
He says that so far, the most memorable moment has been covering the President's meeting with President Santos. "It was a foreign policy topic I don't know too much about, so a challenge for me to cover, even though the remarks lasted 12 minutes," Johnson says.
"At a personal level, it was exciting because that was the first time I've been in the Oval Office (which, I might add, was nicely decorated for the holidays.)," he added.
I also asked Chris what he thought of the conservative critique that the WHCA essentially added his paper as a political move, that they didn't really deserve it.
"Was this Newsbusters? (Yes, it was) They seem to go after every gay journalist. I've seen them write not-so-nice things about National Public Radio's Ari Shapiro and the Washington Post's Dan Zak. Not sure why they have objections to gay journalists doing their jobs," Johnson responded, adding "I don't think that publication is really aware of what the Washington Blade does. We're an objective news source, just like New York Times or the Washington Post, just directed toward an LGBT audience."
He concluded, "I've been attending the White House news briefings just about every day for about five years, so any claim that we aren't suited for pool duty is totally off base."
Whatever small bit of alarm there might have been about the paper's inclusion in the pool ought to be allayed by Chris Johnson's early outings with the President's in-town press pool. For several years, he has been among a small handful of reporters who have doggedly pressed the Obama administration on LGBT rights issues, but with a distinctive seriousness that translates to his pool reporting, which is more detailed than most. His work compares favorably with that of other poolers, as does his resumé.
Johnson has been with The Washington Blade, the country's oldest LGBT newspaper, since 2008, and was a founding employee of the paper when it relaunched under local ownership in 2009. Prior to that, Johnson covered defense issues for Inside Washington Publishers, and previously wrote for the Michigan Information and Research Service newsletter, a Lansing-based publication covering state political news in his native Michigan,where he graduated with honors from the University of Michigan in 2003 with a degree in English and Creative Writing.
Have a tip we should know? tips@mediaite.com