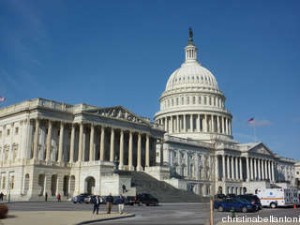 The GSA has come under fire recently for it's lavish spending (of taxpayer money), causing administrator Martha Johnson to resign. Roll Call obtained an interview transcript that shows the GSA invented fake awards, like the "jackass award," as an excuse to hold dinner events.
Roll Call reported that in the transcript, "a GSA employee who attended the Las Vegas conference said the administration's officials routinely created awards to justify taxpayer reimbursement for dinner events." From Roll Call:
"Typically at any — any conference in my memory over the last three or four years, probably even further back, there was always — there's always one night where we have an awards ceremony and people are fed. I mean, it's not even like it's snacks. I mean, sometimes it's pretty close to being like a full meal," the employee said.

Describing the award ceremonies, as a "running joke," the employee said, supervisors explained that the fake awards were designed to justify dinner events at the conferences.

"He says: 'OK, everybody, just remember, the only way we can have food is if we have an awards ceremony.' Maybe not in those exact words, but fairly similar," the employee said.
The transcript further notes a GSA employee noting it wasn't just one award, but "a bunch of goofy awards."
Republicans have already been highly critical of the GSA following the report about the Las Vegas conference — and this report points out this newest revelation is providing more fuel to the fire, with some Republicans saying it shows the problem is deeper than just that one conference.
(H/T Roll Call)
Have a tip we should know? tips@mediaite.com