Mitch McConnell's Campaign Manager Caught On Tape: 'I'm Holding My Nose' Until Rand Paul 2016 Run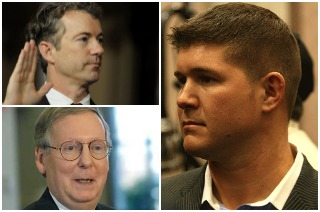 On a phone call recorded earlier this year but just released Thursday, former Ron Paul campaign chair Jesse Benton denied knowledge that the campaign had bribed a state senator for his endorsement in the 2012 primaries, and said that he was currently "holding his nose" as Mitch McConnell's campaign manager until he had a chance to work for Rand Paul.
Economic Policy Journal obtained a recorded telephone conversation between Benton and ex-Paul campaign aide Dennis Fusaro, in which Fusaro describes an alleged payola scheme featuring Iowa State Senator Kent Sorenson and the Ron Paul presidential campaign that was supposedly behind Sorenson's sudden switch from endorsing Michelle Bachmann to joining Paul. (Bachmann's staff accused the Paul campaign of the bribery immediately.)
Benton was Ron Paul's campaign chair, and Fusaro's said he had emails showing Benton knew of the scheme to pay Sorenson $8,000 for his support. On the call Benton denied knowledge, and asked for proof.
The two then got to talking about Benton's current role working for McConnell. "Between you and me, I'm sorta holding my nose for two years, because what we're doing here is going to be a big benefit to Rand in 2016," Benton is heard to say.
According to the Weekly Standard, Fusaro claimed both he and Benton were in "one-party consent" states, in which only one party needs to consent to be recorded for the action to be legal, and that he held onto the tape in hopes Benton would do the right thing—until today. "He's incapable of doing the right thing," Fusaro said.
Listen to the phone call below, via EPJ:
[h/t EPJ]
—
>> Follow Evan McMurry (@evanmcmurry) on Twitter
Have a tip we should know? tips@mediaite.com