'The Haters Are Going Crazy': Trump Tweets About Enemies Again While Distancing Himself From Putin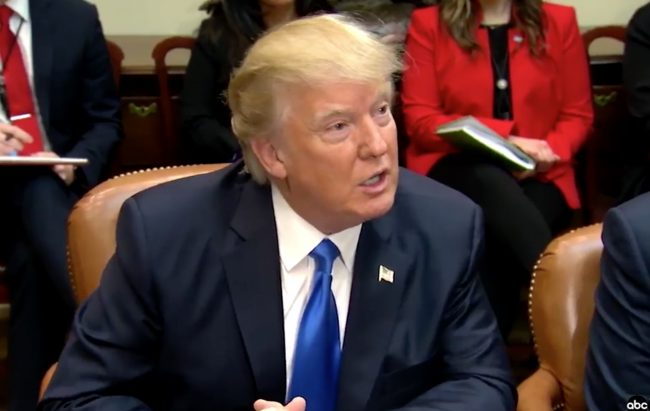 As we all know, there is nothing more presidential than using Twitter to call out the "haters" who never thought you could get to the White House. This behavior has been a staple of President Donald Trump's social media usage, last seen on full display during his bizarre New Year's message.
And now the Commander in Chief is calling out his dissenters again, this time saying that they're "going crazy."
I don't know Putin, have no deals in Russia, and the haters are going crazy – yet Obama can make a deal with Iran, #1 in terror, no problem!

— Donald J. Trump (@realDonaldTrump) February 7, 2017
Trump's finger wag at the so-called haters came only after he distanced himself from Russian President Vladimir Putin in the tweet, sticking with his newish talking point that he does not know the former KGB foreign intelligence officer. Of course, this is in stark contrast to the rhetoric Trump used before his election, when he would routinely invoke his relationship with the Russian president.
In 2014, he claimed during an event at the National Press Club in Washington, DC, "I was in Russia, I was in Moscow recently and I spoke, indirectly and directly, with President Putin, who could not have been nicer, and we had a tremendous success." The next year in an interview, Trump claimed again to have met and known Putin, telling Michael Savage they met, "one time… a long time ago," and furthered, "[I] got along with him great."
Interestingly, despite the Trump tone of the tweet, it may have actually been written by a staffer or assistant; the source of the tweet indicates it was sent using an iPhone Twitter app, while historically we know that Trump's more aggressive (or oftentimes misspelled) tweets come from an Android device that he operates himself. Hey, maybe it wasn't so secure after all?
Either way, be on the look out for those crazy haters out there.
[image via shutterstock]
This is an opinion piece. The views expressed in this article are those of just the author.