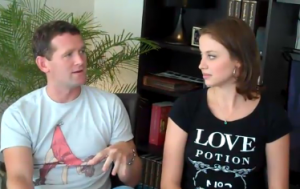 Yesterday was a big day for the Internet: We learned that "Jenny, The Girl Who Quit Her Job By Dry-Erase Board" was not, actually, a disgruntled employee but rather an actress responding to an ad for a viral video for comedy site TheChive.com. Oh Internet, you can be cruel. But wait! Just because Jenny isn't real doesn't mean that Elyse Porterfield, the winsome young actress who portrayed her so convincingly behind those thick-rimmed glasses, isn't ready and willing to meet her fans. CBS' Shira Lazar sat down with her today in Los Angeles, along with TheChive.com's founder John Resig, and chatted about her sudden explosion of Internet fame.
"I'm just rolling with the punches – I'm just going with it," said Porterfield, now with 249,000 Google results to her name. "You can't have any expectations from it, you just hope for the best." Porterfield described herself as "probably your average Facebook user" — now she's enlisted her little sister to manage her emails and new Facebook fan page. Resig says The Chive will keep on using Elyse as Jenny "for the next six months 'til we can't afford her anymore." Sounds about right. But, she doesn't have an agent yet. So get on that, Hollywood! She did say she'd do Playboy…if she could do it fully-clothed. In which case she'd be a HPOFCA.
On interesting thing about this video: How blithely Resig talks about perpetrating a hoax, like it's just another media campaign and his brother and partner, Leo, didn't actually lie to Peter Kafka. "I think a hoax has two lives," says Resig. "There's the inital blast that's incredible — then it gets a second life when you find out that it's a hoax….and then we do what we're doing with you [Shira and CBS]." But this didn't run on Funny or Die, where we know that, say, Aziz Ansari doesn't actually have a beef with Justin Bieber. This was presented as something that actually happened. Which means that anyone would be crazy to regard The Chive as a credible source going forward (and really should have been skeptical, as Kafka was, when Jenny exploded to the fore. For me, the deal-sealer was the cutesie outfit change at the end). In any case, there's 11 minutes of them talking about it all here, so enjoy.
Have a tip we should know? [email protected]