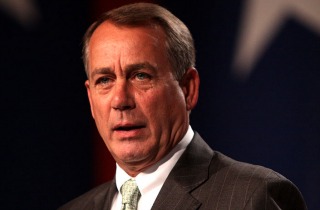 Politico reporter Josh Gerstein posed this question in a piece yesterday: when is the Republican-led House going to file that lawsuit against President Obama they kept building up the entire summer? Gerstein reminds readers that there's really been nothing new about that lawsuit for months now, especially given that there's an election not two weeks away.
Back in June, House Speaker John Boehner announced plans to sue President Obama for abuse of executive actions. Weeks later he said the lawsuit would be specifically targeting the president's unilateral actions on the employer mandate provision of the Affordable Care Act (though Gerstein reports they might be expanding the scope of the lawsuit anyway).
President Obama repeatedly laughed it off, MSNBC gleefully celebrated it, and even some conservative figures had to admit it was very likely a bad idea.
The House GOP voted to sue him in July, they retained a lawyer in August, and since then… nothing.
What are we to make of this? Well, Gerstein reached out to a Boehner spokesman, who said there's "no decisions on timing at this point." Democrats Gerstein spoke to have no doubt this is election-year politics, with one former congressman saying, "I thought this was a constitutional crisis and the republic was in jeopardy because Obama overstepped his bounds. Now, they can't even get around to filing it?"
On the flip side, however, one conservative argues it's better to wait until after the election anyway:
"After the election, it ought to garner more serious commentary, evaluation and judicial review," said Todd Gaziano of the Pacific Legal Foundation. "It can have some very helpful consequences for a principle that I think liberals and conservatives should both be concerned about, and that is the president's unilateral authority to rewrite a statute in dozens of ways."
Also, if you thought the Democrats' e-mails were frantic now…
[image via Gage Skidmore]
— —
Follow Josh Feldman on Twitter: @feldmaniac
Have a tip we should know? tips@mediaite.com
Josh Feldman - Senior Editor