The Last Bastions of Hope: In Light of Lance Confession, Nine Prominent People Who Cannot Let Us Down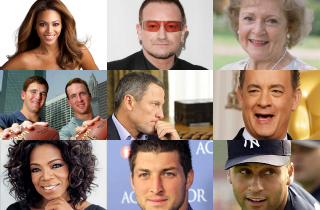 What's left to say about Lance Armstrong that hasn't already been said?
He cheated.
He lied.
He disappointed and/or angered millions of people (wait, is this my Manti or Lance column?!)
Of course, Armstrong going on Oprah Winfrey's show and belatedly bearing his soul can't put the toothpaste back in the tube. The court of public opinion has overwhelmingly spoken, and there's nothing the former seven-time Tour De France winner can say to reverse that guilty verdict.
So instead of joining the lecture circuit as so many cable news talking heads have, I instead began to reflect on which public figures are still left to help keep our faith in humanity alive.
And with seven billion people to choose from, I came up with, uh…nine.
Before getting to the list, here are the prerequisites for consideration:
• Never has allowed ego to get out of control (resulting in becoming an intolerable douchebag)
• Serves as an inspiration for millions
• Leads by example in day-to-day life
• Hasn't done hard drugs (as far as we know)
• Hasn't done performance enhancing drugs/cheated/stole to advance career (as far as we know)
• Has never cheated on spouse (as far as we know)
• Has avoided the kind of scandal that would stain a once-sparkling reputation
Disclaimer: I know I'm missing some lesser-known people and definitely more charitable ones (feel free to share in the comments section). That said the folks chosen below are considered to be at the highest level of public exposure. Ultimately, it makes the example they've set even more impressive when being under such scrutiny…where there's no room for error.
9. Tom Hanks – Has Hollywood marriage to Rita Wilson that has actually lasted (they met on the set of the underrated Volunteers in the mid-80s). Is known as such a nice guy in real life that he's never been cast as a traditional villain in any of his films. Huge supporter of veterans groups through his foundations (Welcome Back Veterans and the Pearl Harbor Memorial Fund) and movies/series he's either starred in or produced (Saving Private Ryan, Band of Brothers). Would be a tough out if he ran for office in any capacity…
8/7. Peyton Manning/Eli Manning – Try to picture either Manning being pulled over for DWI, testing positive for anything or photographed past midnight with any girl named Destiny or Porsche. I can't. These guys have a combined three Super Bowls rings, seemingly 300 endorsement deals (give or take), never complain or do the wrong thing (outside of Peyton's horrific pick last week in double OT). Started charities that primarily assist poor children and the blind. Mannings = Camelot of the sporting world…
6. Betty White – OK, so she breaks my divorce rule…but those (two) happened before 97.4 percent of you were born (last one: 1949). Longest span between Emmy wins (50 years) in history. Lone surviving Golden Girl. As American as apple pie, baseball and raising the debt ceiling, she's a true icon. Most admirable: Her work with animal welfare and health. White has dedicated thousands of hours over a 40-year span to the Morris Animal Foundation – a research center for health studies benefitting dogs and cats. Most remarkable: She's worked in Hollywood for over 70 years and has avoided anything that would soil her otherwise-perfect image in the process.
5. Tim Tebow – Most scrutinized backup QB in NFL history but still conducts himself with honor on and off the field. Holds firm to core principles despite his Christianity being mocked by vile elements of the media. GOP Presidential frontrunner in 2032. But if he ends up like Favre (self-absorbed and/or sexting aficionado) or (gulp) OJ, that asteroid with the 1-in-200,000 chance of hitting Earth can't arrive quickly enough.
4. Oprah – Why? Well, she's friggin' OPRAH.
3. Beyoncé –Most beautiful singer of all time. Never a peep heard about domestic issues. No diva moments. Gets the Super Bowl halftime show this year. (See: safest pick under age 70).
President Obama sums it up nicely: ""Beyoncé could not be a better role model for my girls because she carries herself with such class and poise and has so much talent." The key word here is "class"…there's just something stately, regal about the way 31-year-old has conducted herself.
Most impressive: Started dating Jay-Z at age 19 and went on to marry the guy almost a decade later. When do you EVER see that kind of monogamy and dedication in young celebrity culture?
But if she becomes the next Whitney Houston, all is lost.
2. Derek Jeter – The steroid era needed a hero. Jeter was/is that guy. Plays through pain, saves his best for clutch time, and despite living in the easiest city in the world to become the lead story on TMZ (or Deadspin), always avoids trouble. But the smartest thing the Yankee Captain EVER DID was avoid getting married, thereby preventing him from being judged when dating various aesthetically pleasing women throughout his 17-year career (this is known as the Clooney Rule in some circles).
1. Bono – Most interesting moment came about a year ago when the U2 legend praised George W. Bush for his work on the battle against AIDS crisis to Jon Stewart, a moment that unofficially marked the first and only time the former President has ever been praised on The Daily Show.
Bono (on the HIV/AIDS medicine effort): "We're hoping very much that President Obama is going to follow through on what President Bush did."
Stewart interrupts (shocked): "Woo, let me just swirl that around in my mouth."
Bono: "I know that's hard for you to accept. It is amazing. People like John Kerry worked for this. Hillary Clinton, and eventually President Clinton did some extraordinary stuff renegotiating the prices of these very expensive drugs down. But George Bush kind of knocked it out of the park."
And that's the thing. EVERYBODY loves Bono…conservatives, liberals…doesn't matter. They all admire his exhaustive efforts in battling the AIDS scourge in Africa. As a result, all modern Presidents provide him an audience few can secure.
Bono knows the broken American political climate, knows much of Bush's foreign policy ran concurrent to his beliefs. But by keeping his focus on the task at hand, Bono is able to get important things done regardless of who was in charge at the White House. Perhaps Congress and the current Administration can take a lesson from him.
But imagine if Bono were caught in some extortion scheme, or checked into rehab.
For the sake of our belief in the good of humanity, let's hope none of these nine ends up disappointing us…the way one Lance Armstrong did.
— —
>> Follow Joe Concha (@ConchSports) on Twitter
Have a tip we should know? tips@mediaite.com