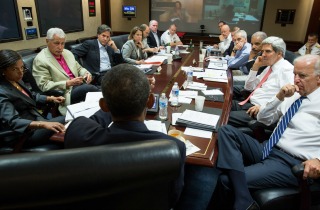 Just days after emerging victorious in the 2012 presidential election, the New York Times editorial board urged President Barack Obama to get right to work pursuing his foreign policy vision. Their "inexhaustible list" of Obama's stated goals for America's approach to foreign affairs was actually quite exhaustible and unambitious; avoid military conflict in Syria and Iran, provide "more assistance" to those nations thrown into chaos by the ongoing Arab Spring revolutions, pursue a two-state solution in Israel/Palestine, and renew his support for the "lofty goal" of a world without atomic weapons.
But the tide of history, long dormant, finally waxed. As the threat of non-state actors engaging in catastrophic acts of terrorism receded slightly, the old specter of geopolitics and great power conflict once again rose to prominence. China began testing the perimeters of American influence in the East Pacific, threatening the territorial integrity of America's Philippine ally. The Syrian civil war began to export violence and refugees across its borders. Iran continues to destabilize the region with a push toward nuclear weapons. The Russian Federation facilitated all of this destabilization while finally creating a crisis all its own with Friday's invasion of Ukrainian Crimea.
The press, once enthralled by Obama's embrace of the kind of "soft power" worshipped in the nation's international affairs departments, has begun to express doubts about Obama's leadership. On Monday, a flood of hand-wringing about the president's ability to effectively contain the evolving crisis in Eastern Europe overtook the political narrative.
The Washington Post's editorial board insisted that Obama's worldview was built on a convenient "fantasy," and its central plan – the reduction of American geopolitical influence and a managed decline of its military might – has had a destabilizing effect on the fragile international order. Perhaps unintentionally, they echoed the sentiments expressed by Brookings scholar Robert Kagen in POLITICO Magazine last week: Even the president's much-vaunted "pivot to Asia," a concept lauded in the press at the time as indicative of a new form of "smart power," was destabilizing. That policy amounted to a tacit admission that the era of American military ubiquity was over. The United States was now reduced to regional threat management.
"Caught off guard, Mr. Obama is left to play catch-up," New York Times reporter Peter Baker revealed. After sounding a wistful note that the president's warnings to his contemporaries in foreign capitals are being repeatedly and flagrantly ignored, Baker observed that "Mr. Obama came to office with little foreign policy experience and has been repeatedly tested." The White House, the Times reports, concedes that they now have few options at their disposal to roll back Russia's invasion of Crimea and are focused instead on containing the bear to the peninsula – another aim which Washington lacks the tools to enforce.
RELATED: WaPo Editorial Board: Obama's Foreign Policy 'Based on a Fantasy'
"[I]t is critical that Obama respond strongly, and that this response be swift. At stake is not only the future of Ukraine, where the chaotically disorganized opposition to [ousted Ukrainian President Viktor] Yanukovich is waiting and wondering, but in the Middle East and throughout Asia, where many leaders have taken to questioning America's commitment to the world," the National Journal's Michael Hirsh advised. "Whether he likes it or not, [Russian President Vladimir] Putin and other world leaders appear to view him as indecisive and unwilling to take risks."
This is a fair assessment of the current situation, but that last sentence is written as though this is a mistaken impression on the part of the world's leaders that is entirely autogenic. Nothing could be further from the truth. Obama's feeble responses to past geopolitical crises, and deference to the strategic goals of other nations at the expense of American interests, and his seeming unwillingness to back his own warnings up with action have precipitated the present failure of deterrence.
This reality is obvious to the editors of the Wall Street Journal. "Mr. Obama and the West must act, rather than merely threaten, because it's clear Mr. Putin believes the American President's words can't be taken seriously," the editorial board warns. "The world is full of revisionist powers and bad actors looking to exploit the opening created by Mr. Obama's retreat from global leadership, and Mr. Putin is the leading edge of what could quickly become a new world disorder."
[Photo via The White House/Pete Souza]
— —
> >Follow Noah Rothman (@NoahCRothman) on Twitter
Have a tip we should know? tips@mediaite.com