The Media's Moral Decline: Standards, Story Selection Now Tabloids On Steroids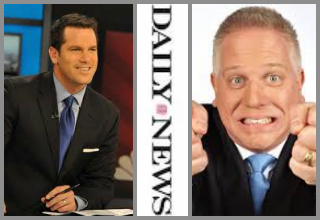 I should be in a good mood. Really, I should…
After all, I have a baby girl on the way, just purchased my first home, bought my first mailbox (oddly, I find this to be a very big deal), and it's the middle of summer…my favorite season of the year (come to Jersey in February for the Super Bowl and you'll see why winter doesn't make the top three).
Yet, there's this tone that's been set in the media lately that make me feel like we're completely screwed morally as a country. And this isn't an ideological column, so we're not going to go the blame-Obama route. And it has nothing to do with the morality of, say, gay rights…I found the Pope's comments this week refreshing (no matter the revised intent or context) and we can all agree the momentum of the movement is now irreversible.
Maybe it's just my Jerry McGuire moment…that flash of candor and clarity that had Tom Cruise 's character frantically typing a mission statement in the middle of the night and submitting it in the mailbox of every employee at his sports agency to read the following morning (remember, no mobile email back in the stone age of 1996). So here's my version of McGuire's "The Things We Think About But Do Not Say" when it comes to the topics that dominate our headlines and the stories that most of the public can't seem get enough of.
On Wednesday morning, for example, here are the headlines on the front page of the New York Daily News (online):
Lead headline:
'F— you, you little c—.': Anthony Weiner's spokeswoman goes on EPIC RANT against ex-intern who slammed campaign in Daily News column, calling her a 'f—ing slutbag'
Headline #2: Simon Cowell expecting first child with New York City socialite who is married to his best friend: report
Headline #3: Lilo (Lindsay Lohan) leaves rehab after 3-month stint
Headline #4: THREE-WAY: Married couple's escort service also includes husband's sexy ex-girlfriend, according to feds
Headline #5: 'I think he's a little too busy j—–g off to do anything for the city': Sydney Leathers rips Weiner in X-rated Howard Stern interview
Headline #6: 'Porn Pastor' has seen it all when it comes to sex — but still says Weiner's sexting is 'extreme'
Headline #7: Staten Island brothers arrested after cops find more than 20 unregistered guns hidden in their home
Headline #8: Manhattan high school dean had unprotected sex with four students, harassed others: officials
Headline #9: Deadbeat mom jailed after 4-year-old snorts her cocaine stash
Headline #10: Paralyzed man wakes up to find his dog eating his testicle
No, really…
For those who don't live in New York and aren't familiar with the Daily News, it should be noted that while it sometimes reads like a tabloid, it is a legitimate news source and is mentioned in the same breath as The News York Times and New York Post one of the city's top newspapers. In fact, the Daily News has won ten Pulitzers and is the fourth-most circulated newspaper in the United States. To that end, these headlines aren't too different than what we see dominating national or local cable news today, and by extension (since we cover this stuff), Mediaite as well.
Judging by the lead headline, which includes a poorly-masked f-bomb and formerly completely-off-limits-in-print c-word, and by headline #5, which ends the most prolific run of double-entendre in the history of headlines, it appears anything goes in journalism today. And I'm not exactly a prude (80s word, I know) when it comes to this stuff, but with said child on the way, it is disturbing that she could open the front door, see a newspaper and absorb those headlines blaring out at her before heading to school. Same goes for reading the paper online.
I know what some of you are saying… just cancel the subscription if you don't like it. Or "grow a pair." But I really enjoy the Daily News, just like I enjoyed HBO. I also read the New York Post religiously, and that's somehow considered even more provocative.
Will there be anything left? I mean, a newspaper was never considered something you had to hide from your kids, right?
As I'm writing this, I see MSNBC anchor Thomas Roberts–who is supposed to be one of the less opinionated and more anchorish (for lack of a better word that doesn't exist) than his eclectic counterparts—saying the word "batsh*t" on the air. No accident, of course… Mr. Roberts probably just wanted to be featured in this and other media publications. Attract cheap attention, check. Cronkite rolling over in grave, check.
But it's not just an MSNBC thing, as Bob Beckel's swear jar on Fox has amassed enough cash to start the White House tours again. Glenn Beck just said he was Diane Sawyer's "little bitch." And CNN's Anthony Bourdain's colorful vernacular would fit in at a Teamsters' convention just fine, but at least that program is on at 9:00 PM on a Sunday night.
More and more, journalism is less about, well, journalism, and more about business and profit.
Syrian civil war?
Upheaval in Egypt?
Those are stories Americans either don't care about or can't remotely understand (nor do many anchors).
Home prices soaring to five-year highs is interesting (particularly to 75 million homeowners out there plus those looking to join the club), but without a racial component to scream about, it gets a passing mention before moving on to discussions around saggy pants and self-respect.
Speaking of Don Lemon, the prediction in this space that his five-points of advice for the black community to better itself (and all communities for that matter) would raise the cable news war to new heights came completely true and then some. But while almost everyone else on-air predictably complains and screams about nothing, here's Lemon actually putting his neck out there and offering this foreign concept called solutions that are just basic values taught to grade-schoolers by parents and teachers alike. But race peddlers don't like solutions very much…they simply get in the way of a narrative which solely exists to divide us even further. So they call Lemon an Uncle Tom, attack his credentials, and proceed in taking up space on the air again.
And so it goes as the calendar turns from July to August in 2013. I said the Zimmerman trial and the media coverage of it would set back race relations 60-160 years. We're not quite there yet, but it's certainly trending in that direction, at least on cable news. And when race isn't the topic, it's all about sex scandals, which doesn't even need to include actual intercourse anymore.
Tabloids on steroids is journalism today. Hard news still exists, sure, but only when domestic terrorism, huge natural disasters and decade-long kidnappings are concerned.
But if that's what the public wants, if that's what they're buying, then as a business, news outlets need to heed to whims of supply and demand.
As a wise man I worked with once said when talking about generating corporate profits, "We're not here for the dental plan, now are we?"
Thus is the state of journalism today.
Show me the money.
It is what it is.
That doesn't mean it'll put me in a better mood.
—-
Follow Joe Concha on Twitter @ConchSports
This is an opinion piece. The views expressed in this article are those of just the author.