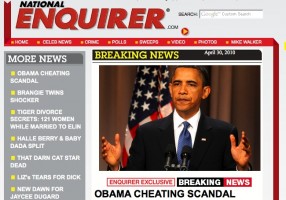 Late last night the notorious tabloid the National Enquirer broke a story claiming that President Barack Obama was caught having an affair with a former campaign staffer. Despite the story being very thinly sourced, various Internet media outlets picked up the story, including Mediaite, raising questions about even repeating stories that have not been properly reported.
Almost immediately we received harsh feedback from progressives on Twitter who felt that we were somehow derelict in duty for reporting that this story had broken in the tabloid. I want to rebut the notion that we should not have covered this story at all.
Information is so widely available in this day and age – the hope that people will not discuss a story, no matter how questionable its sourcing – is a time that has passed. Does that mean that the Washington Post and New York Times should be reporting this story? Of course not. Does it mean that we are part of some right-wing cabal for analyzing it? No. A website covering the intersection of media and politics can't ignore this story. Did we give credibility to what some are claiming to be a paper thin account? Some may say yes, but only those who did not read the story carefully.
We have a smart audience of savvy media watchers who will know that when Drudge picks up a story, that in addition to his base of readers, media decision makers will also be seeing it and making difficult decisions about what to do with it. The days of a paternalistic media protecting the populace from questionable information has passed. Good or bad for the country and the world, it is. That is where we are today.
The original story laid specific questions about the Enquirer's anonymous sources and the existence of surveillance footage that might corroborate the otherwise questionable story. Originally, the writer Frances Martel claimed that a link on the Drudge Report added "credibility" – that has since been changed to "significance and impact," which I stand behind.
In many ways Mediaite is a site that reports on which the stories the media is discussing. And I assure you they are more than discussing this one.
Have a tip we should know? tips@mediaite.com
Colby Hall - Founding Editor