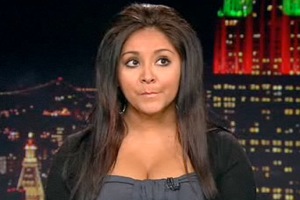 Yesterday, the New York Times profiled one of the most important media figures of the 21st century so far, Shirley Sherrod Jersey Shore's Snooki. Or, more specifically, author Cathy Horyn tried to find something Snooki was good at, and not even Snooki's father could give her an answer.
Horyn spoke to "Papa Snooks" to get a feel for how he perceives Jersey Shore and his daughter's barely-explicable newfound fame. He was proud in the generic sense that all parents are, but really had no explanation for his daughter's life, other than her insistence on acting precisely as her personality dictates. More comically, he says he likes to go to her events and quiz guests as to why they like her, because he sees no reason to:
"When we go to venues, I like to stand out in the crowd," he said. "She'll be up there hooting and hollering, and I'll say to someone, 'What is it that draws you to my daughter? Be honest.' Because it's very hard for me to see what it is. She don't sing. She don't dance. I don't want to say she don't have talent …" He seemed to have his doubts. Then he shrugged. "Everyone basically says they can relate to her. I think Nicole's just a likeable person."
Horyn's scorn for Snooki is quite palpable throughout the piece, to hilarious effect. She describes interviewing Snooki as "a little like getting down on your hands and knees with a child. You have to come down to her level, and sometimes you almost think you need to bribe her with a piece of candy to coax her to be more responsive." She asks an American culture professor to explain the phenomenon, and the best he can do is, ""I certainly wouldn't want to be stuck in an elevator with her." She explains Snooki is interested in a book deal, but can't help note that Snooki has only read two (atrocious) books in her life. He describes her as not "capable of serious introspection."
Of course, the loathing is all part of Snooki's appeal. America first fell in love with her because, in the first episode of Jersey Shore, she got drunk, embarrassed herself, was late to work, and was alienated from a group that includes a person named "The Situation" for being irresponsible. The defining moment of her career is getting punched in the face. So it's difficult to think that Snooki herself will be very offended by the piece, which insists she a great character but has no substantive appeal and, in person, is intolerable. It's attention, it won't hurt the ratings, and will feed the lab-rat fascination she has worked so hard to cultivate.
Have a tip we should know? tips@mediaite.com