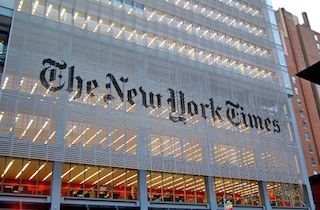 The question of Hillary Clinton's Wall Street speeches has led to many calls on the left for her to release the transcripts of those speeches. She was confronted about it during last week's MSNBC Democratic town hall, and Bernie Sanders has been particularly tough on the subject.
And now the New York Times editorial board is calling on Clinton to release them.
Yes, the same editorial board that wholeheartedly endorsed Clinton, and if you want an idea of how serious their call here is, look at the very first paragraph:
"Everybody does it," is an excuse expected from a mischievous child, not a presidential candidate. But that is Hillary Clinton's latest defense for making closed-door, richly-paid speeches to big banks, which many middle-class Americans still blame for their economic pain, and then refusing to release the transcripts.
Oof.
They go through all of Clinton's excuses, including her claim that there's one standard for her and a different one for everyone else, but they counter that "the only different standard here is the one Mrs. Clinton set for herself."
They call it "mystifying" that Clinton would base her decision on what the Republicans do and conclude with this forceful call:
Public interest in these speeches is legitimate, and it is the public — not the candidate — who decides how much disclosure is enough. By stonewalling on these transcripts Mrs. Clinton plays into the hands of those who say she's not trustworthy and makes her own rules. Most important, she is damaging her credibility among Democrats who are begging her to show them that she'd run an accountable and transparent White House.
You can read the whole editorial here.
[image via screengrab]
— —
Follow Josh Feldman on Twitter: @feldmaniac
Have a tip we should know? tips@mediaite.com
Josh Feldman - Senior Editor