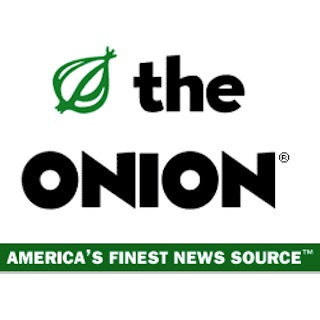 In the past, The Onion has pretended to be sold off to a Chinese company, completely redesigning the website to start discussing fish. Just a few weeks ago, they pretended to start a celebrity-filled campaign to get a Pulitzer only to "reveal" that the whole thing was a "scam." With a paper so thrilled to joke about its own reality, it's unsurprising that many readers have been waiting for the punchline ever since it was announced that The Onion was beginning to experiment with a paywall. However, it doesn't seem like this is a joke.
The paper's CTO explained the new structure over at Nieman Journalism Lab in which this was called "a test":
"But not so fast, says Michael Greer, the Onion's chief technology officer. 'By 'test,' we sincerely mean it. We want to know how people respond and act,' he said. 'We're not rushing.' The Onion, ever like a real news organization, is dipping its toe in the water and experimenting with paid content.

The Onion's metered model is like that of The New York Times: Only hardcore fans are asked to pay. After reading five articles in 30 days, users are prompted to subscribe for $2.95 a month or $29.95 a year. The homepage and inside sections remain free, and the vast majority of Onion's readers — the thousands of people who share funny headlines with their friends — 'will never even notice,' Greer said."
While some might be concerned about the fact that The Onion has always been free in both its print and online formats, Greer certainly has a point that this "hardcore fan" type of structuring really will affect much less people than for the "serious" papers that employ it. I would guess that a vast number of readers rarely go past the homepage, content to read the headlines. Perhaps I've missed it but it doesn't seem like the video section of the website is mentioned. If they count as "articles" in your 30 day limit, that would probably change things but it seems unlikely.
What is definitely unaffected is The A.V. Club, the website's non-satire pop culture section which has very much grown into its own separate community. That site's news editor, Sean O'Neal promised that things would stay the same in a post yesterday. Both Greer and O'Neal also mention that the paywall won't be set up areas abroad where US troops are stationed so that the sizable amount of enlisted fans continue to receive the content for free.
So, it seems very unlikely that this will all be revealed to be a joke. However, if it is, it will probably be funny enough to prove why the Onion's deserves our money in the first place.
Have a tip we should know? tips@mediaite.com