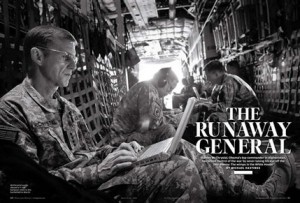 In a recent interview, Michael Hastings, author of the Rolling Stone article that led to the ousting of Gen. Stanley McChrystal, denied claims he broke any pre-arranged ground rules for his story, and added that he had another military embed in Afghanistan. The Pentagon, however, is denying him an embed assignment, citing trust problems.
From Hastings' Daily Finance interview last month:
"Whatever ground rules were put down, we followed them," he said. "Whenever someone said something was off the record, I followed that. There is absolutely no gray area here. How it works is the reporter goes and hangs out with a subject and writes down what the subject says and does."

One bit of evidence that Hastings played fair: He's already been approved by the military for another assignment. "There's actually an embed that's waiting for me in Afghanistan," he said.
According to the Associated Press, however, the Pentagon has denied Hastings' embed request:
Defense Department spokesman Col. David Lapan told reporters that freelance writer Michael Hastings was rebuffed when he asked to accompany, or "embed," with American forces next month.

The rejection came as the Pentagon ramped up an internal investigation into the circumstances behind some of the most salacious material Hastings used in his article in Rolling Stone. The Army inspector general is interviewing current and former McChrystal aides, The Associated Press has learned.
Lapan admitted denying an embed is "fairly rare," but also said that journalists are not guaranteed to have their request granted. "There is no right to embed," he said. "It is a choice made between units and individual reporters, and a key element of an embed is having trust that the individuals are going to abide by the ground rules. So in that instance the command in Afghanistan decided there wasn't the trust requisite and denied this request."
Hastings meanwhile already has a book deal following the Rolling Stone controversy and has said he is working on freelancing other work. While the denial may be disappointing for the reporter, it is hardly surprising given the fallout of the McChrystal story.
Have a tip we should know? tips@mediaite.com