The Piers Morgan Saga Continues: Heather Mills Alleges Trinity Mirror Reporter Admitted to Hacking Her Phone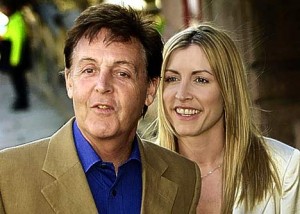 I was beginning to think this whole British phone hacking scandal had lost its intrigue and excitement. Where's the celebrity? Where are the salacious details? Where's all the fodder for the gossip rags? Well, a new twist in the allegations over widespread phone hacking has now connected CNN host and former tabloid editor Piers Morgan to the Beatles. Well, sort of.
Heather Mills, ex-wife of Paul "The Walrus" McCartney, has alleged that a journalist for the Mirror Group admitted that her phone had been hacked and reporters had listened to voicemails between the couple during a rough spat in their relationship. At the time, Morgan worked as the editor of The Daily Mirror.
In an interview with the BBC program Newsnight that will be airing later tonight, Mills claims that in 2001, she was contacted by someone working for the Mirror, who proceeded to read the transcript of a voicemail McCartney left for her earlier that year.
Her recollection of the conversation:
A senior Mirror Group Newspapers journalist rang her and "started quoting verbatim the messages from my machine".

Ms Mills said she challenged the journalist saying: "You've obviously hacked my phone and if you do anything with this story… I'll go to the police."

She said they responded: "OK, OK, yeah we did hear it on your voice messages, I won't run it."
It takes a true mensch to hack your phone but have enough integrity not to write a story about it.
What does any of this have to do with Piers Morgan? Well, apart from the fact he was editor of the Mirror at the time, there's also this: in a 2006 article for the Daily Mail, where he humbly claims to have introduced McCartney to Mills in the first place, Morgan explained that he was given a firsthand insight into the nature of their relationship.
Stories soon emerged that the marriage was in trouble – at one stage I was played a tape of a message Paul had left for Heather on her mobile phone.

It was heartbreaking. The couple had clearly had a tiff, Heather had fled to India, and Paul was pleading with her to come back. He sounded lonely, miserable and desperate, and even sang 'We Can Work It Out' into the answerphone.
Well, according to Mills, that was one of the messages she found out Mirror journalists illegally gained access to.
Ms Mills says: "There was absolutely no honest way that Piers Morgan could have obtained that tape that he has so proudly bragged about unless they had gone into my voice messages."
Now, it's not like Morgan would particularly care about what Heather Mills has to say about him. Mills was officially banned from Morgan's CNN show, and Mills responded by blasting the network for hiring "such a disreputable man." And last year, Mills filed a complaint to the Press Complaints Commission stating that Morgan was incorrectly taking credit for introducing the two of them in the first place.
So far Morgan has not responded to these specific allegations*, but the Mirror has insisted that its journalists operate within the boundaries of the law and no wrongdoing took place at any point.
*UPDATE: As it happens, Morgan DID issue a response to Mills' claims. Here's his statement:
Heather Mills has made unsubstantiated claims about a conversation she may or may not have had with a senior executive from a Trinity Mirror newspaper in 2001.
The BBC has confirmed to me that this executive was not employed by the Daily Mirror.
I have no knowledge of any conversation any executive from other newspapers at Trinity Mirror may or may not have had with Heather Mills.
What I can say and have knowledge of is that Sir Paul McCartney asserted that Heather Mills illegally intercepted his telephones, and leaked confidential material to the media. This is well documented, and was stated in their divorce case. Further, in his judgment, The Honourable Mr. Justice Bennett wrote of Heather Mills: 'I am driven to the conclusion that much of her evidence, both written and oral, was not just inconsistent and inaccurate but also less than candid. Overall she was a less than impressive witness.'
No doubt everyone will take this and other instances of somewhat extravagant claims by Ms Mills into account in assessing what credibility and platform her assertions are given.
And to reiterate, I have never hacked a phone, told anyone to hack a phone, nor to my knowledge published any story obtained from the hacking of a phone.
h/t BBC
Have a tip we should know? tips@mediaite.com
Josh Feldman - Senior Editor