The Reaction to Ashleigh Banfield Reading the Stanford Victim's Letter on TV Is Staggering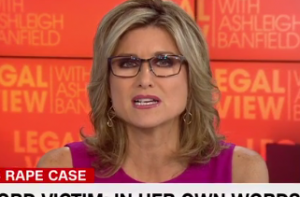 Today at noon, my mouth fell open as I realized that CNN's Ashleigh Banfield was planning to use her hour-long show, Legal View, to read the statement of the unnamed victim of sexual assault by Brock Allen Turner at Stanford University whose firsthand story spread across the Internet like wildfire this weekend. I read it on Saturday and it took me about half an hour, in part because it is extremely long and in part because it's a difficult piece of writing to digest. All told, Banfield read it for about 40 minutes today, which is a rare move in the world of cable news.
When I saw what Banfield planned to do, I sent out a tweet, but didn't expect just how many other people were tuning it at that moment and sending out their own messages of support for the anchor. Since Mediaite is a site focused on the goings-on of cable news, I feel qualified to tell you that ususally, 40 minutes of one person sitting on screen and reading a letter does not make very compelling television. The amount of tweets from viewers of CNN today shows that the Legal View team found the exception to that rule.
First, watch some here:
.@CNNAshleigh: We will spend most of this hour sharing a rape victim's letter to her attacker https://t.co/PPDPXNIkFm

— CNN Newsroom (@CNNnewsroom) June 6, 2016
Some of CNN's Ashleigh Banfield reading the Stanford rape victim's statement in its entirety. Astounding. https://t.co/FVbqtDuzc1

— Bruce Arthur (@bruce_arthur) June 6, 2016
Regular viewers and media insiders alike were watching and commenting.
The #stanfordrape case verdict coverage on Legal View with @CNNAshleigh today was moving and worthy of discussion.

— Tracey West (@ALovelyLife) June 6, 2016
Huge kudos to @CNN & Ashleigh Banfield for covering victims letter to Stanford rapist. Important, necessary, & not Trump. #thankyou

— Julie Foudy (@JulieFoudy) June 6, 2016
POWERFUL & HEARTWRENCHING. Bravo @CNNAshleigh @ChristinaCNN for taking the time to do this. https://t.co/QkZFjJA3br

— Stephanie Gallman (@sgallman) June 6, 2016
@Pillownaut It's even more enraging to hear it read out loud this way. (And I didn't think it could worse than when I read it to myself.)

— Shanda Green (@ShandaGreen) June 6, 2016
Ashleigh Banfield is reading the ENTIRE letter on CNN right now. This is significant. https://t.co/AQkBRhtlTh

— Daniel Fienberg (@TheFienPrint) June 6, 2016
.@CNNAshleigh making Legal View count right now.

— Mike Sacks (@MikeSacksEsq) June 6, 2016
Good on @CNNAshleigh and @CNN for reading this important, wrenching statement in it's entirety, on air. https://t.co/a2OuRv2taw

— mia farrow (@MiaFarrow) June 6, 2016
For just a moment, I forgot about the campaign and was just in awe of what was happening on CNN. Thank you @CNNAshleigh

— Zerlina Maxwell (@ZerlinaMaxwell) June 6, 2016
CNN staff rallied around her, too.
Unusually quiet around the set as @CNNAshleigh reads Stanford rape victim's letter. Half an hour in. pic.twitter.com/p7oH0gVsb1

— Brian Stelter (@brianstelter) June 6, 2016
The #StanfordRape victim wrote a letter. Today we read that letter on @CNN at noon ET. #LegalView w/@CNNAshleigh.

— Christina Ginn (@ChristinaCNN) June 6, 2016
Brilliance, @CNNAshleigh. Proud to be your Executive Producer but more importantly your friend. Great work today on #StanfordRape letter.

— Christina Ginn (@ChristinaCNN) June 6, 2016
VERY proud of my friend & colleague @CNNAshleigh for her handling of today's Legal View pgm re: victim in Stanford rape case #CNN #classact

— Lisa Mirando (@LisaMirandoCNN) June 6, 2016
Very moving newscast today on Legal view w/ @CNNAshleigh reading the #stanfordrape victim's statement on #CNN pic.twitter.com/z8ictruKVV

— Tessa (@ClassicTessa) June 6, 2016
The overwhelming consensus seems to be that this was riveting, powerful, and important.
[image via screengrab]
For more from Lindsey, head to Twitter or Facebook.
Have a tip we should know? tips@mediaite.com