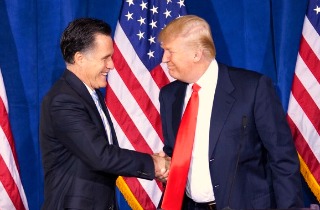 Between his own tweets and an interview with Breitbart News, billionaire game show host Donald Trump is suddenly and unexpectedly harshly critical of former Republican presidential candidate Mitt Romney, who Trump endorsed in 2012.
Amid on-and-off chatter that Romney will make a third run for the White House, Trump tweeted Wednesday that Romney wouldn't even hire himself after the "horrendous" loss he suffered in 2012. He said in a recent interview that Romney "had his chance and he blew it."
After an enthusiastic endorsement of Romney in 2012, what inspired Trump to pull the trigger now?
"By blowing the gimme election [in 2012], Romney bears responsibility for Obama's second term," a Trump confidante told Mediaite.
"The reason Mr. Trump is publicly coming out strongly against Mitt's third run, which Mitt is considering, is because Hillary [Clinton] is a stronger candidate than [President] Obama," he said. "If Mitt could not beat Obama then it is lunacy to think he would be able to win against Hillary."
Granted, it's not really true that former Secretary of State Hillary Clinton was a better candidate than President Obama in 2008, when they went head-to-head for the Democratic nomination and she lost. But that's neither here nor there now.
Our source continued, "As the self-proclaimed great management guru, would Mitt rehire himself to run a third time after pissing away $1 billion in 2012 against Obama?"
Pissing away, wow.
Trump himself has said he's considering a run for president in 2016 (we've been fooled by that one before) and says he'll make a decision on it after the new year. If he decides against it and Romney jumps in, it's safe to say Trump won't be there to offer any help like in 2012.
"Romney often said on the trail that Obama is a nice guy but a terrible president," the Trump insider concluded. "Romney is a nice guy but a terrible candidate."
[Photo via Shutterstock]
— —
>> Follow Eddie Scarry (@eScarry) on Twitter
Have a tip we should know? tips@mediaite.com