The RNC Gives Cory Booker a Nickname After Remarks Slamming DHS Sec.: 'Derogatory Cory'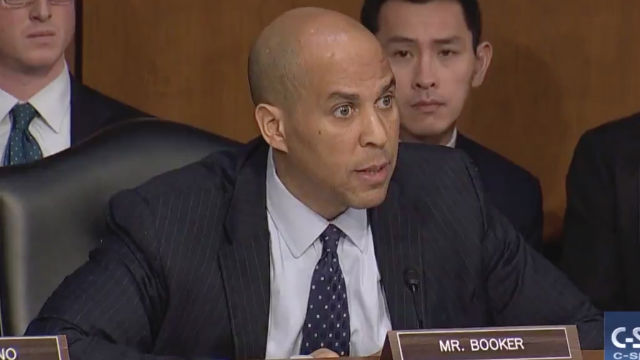 Because the President of the United States gives his opponents insulting nicknames, everyone gets to do it now?
The RNC today nicknamed Senator Cory Booker "Derogatory Cory" because of his tirade slamming DHS Sec. Kirstjen Nielsen yesterday when she said she didn't recall the President's "shithole countries" remarks.
So yes, "Derogatory Cory" is a thing now. Per the RNC:
Picture it. A male Republican senator spends his entire 10 minutes "mansplaining" the female DHS secretary about immigration policy, throws around the term "conscientious stupidity," yells at her the only time she tries to speak, and concludes his diatribe without even asking her to respond.

There'd be so many triggered Democrats that there'd be a hashtag within minutes, campus protests across the country, and the topic-du-jour for celebrities at Hollywood's next award show.

But because the party affiliations were reversed, Derogatory Cory got nothing but praise from the selectively-outraged base he was clearly performing for yesterday.
The RNC press release ends with this bit of trolling: "Nevertheless, she persisted."
Booker got a lot of flak on the right for his remarks, as well as derision over a photo that immediately went viral:
#CoryBooker Melts Down, Yells at DHS Secretary Kirstjen Nielson over Trump Comments https://t.co/X9TA6KszOV via @Xan_DeSanctis pic.twitter.com/2BiBSgHONP

— National Review (@NRO) January 16, 2018
[image via screengrab]
— —
Follow Josh Feldman on Twitter: @feldmaniac
Have a tip we should know? tips@mediaite.com
Josh Feldman - Senior Editor