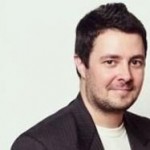 Outside of the rapidly growing but still relatively cultish world of social media, he's some crazy wine guy people may have seen on The Today Show, Ellen, Late Night with Conan O'Brien, or, most recently, Late Night with Jimmy Fallon. Inside that world, depending on whom you ask, he's either a rock star or the new media version of P.T. Barnum. Gary Vaynerchuk expanded his parents' wine store from a small shop in Jersey into a $65 million dollar business by creating WineLibrary.tv, where he has become a major new media personality with his energy-filled video podcasts, frequent conference appearances and chatty Twitter stream.
Vaynerchuk isn't deterred by critics, like Gawker who called him a "wine loving Twitter twerp." I spoke with Vaynerchuk who said the proof is in the numbers: "How can anyone think a person that built a 65 million dollar business be full of shit?" Leveraging his lifetime of experience, from flipping baseball cards for thousands of dollars as a kid to running a multi-million dollar wine and new media empire, he's now trying to position himself as a brand consultant with his new venture, VaynerMedia.
VaynerMedia brings his brother, A.J. Vaynerchuk, who has been a sounding board for Gary, up front and slightly off center as Gary's official right hand man. Gary, the proud big brother, gushed about what A.J. brings to the table "He has been with me hand and hand along the way of WLTV, interned at Rev3 (Kevin Rose, good friend of Vaynerchuck and founder of Digg is also founder of web video network, Revision3) and been my right hand man for 5 years. He's spend more time in the trenches than most. He's got passion and hustle and enormous skills to execute and follow up."
So how does this brand consulting fit into new media? The web is in a strange transition period where corporations are beginning to buy into the idea that a closer connection to their customers through blogs or sites like Twitter and Facebook is a valuable commodity. So-called self-appointed social media experts are all too happy to take their money in exchange for the same thing most teenagers could explain to you in the course of an afternoon. The real value of these folks is their reach, his includes over half a million twitter followers and a video viewership of over 80,000 downloads a day. He's branded  "Vaynerchuk" and his twitter handle "@GaryVee" into names synonymous with wine and new media. When you have an audience the size of Vaynerchuk's, you can market your megaphone for big bucks.
Vaynerchuk is quick to point out that while he offers a large following and a uniquely experienced résumé in new media, his new venture will provide consulting on multiple platforms, including television and print: "The typical client is coming to us for strategy for sure, I have always been good at that. Also for education, and, more important, how to tell 'The Story' —  the story they want out there, and for a slap in the face of the reality of the marketplace. It's about asking questions and giving answers." Gary intentionally punctuates "The Story" because he sees it as a vital part of how companies relate to customers.
Gary is a relentless promoter. On Twitter, he can sometimes seem nonsensical, using the hashtag #crushit (the title of his forthcoming book, "Crush It!: Why NOW Is the Time to Cash In on Your Passion").  He regularly blasts out tweets in a style that reads like daily affirmations from Tony Robbins ("If i had one wish for today…it would be that people opened their eyes and saw that they can #crushit and do what they want for a LIVING!"), or, alternatively, directs people to his videos or ventures. If you were to e-mail Gary, you would receive an auto-reply back that leads you to one of his videos where he sincerely explains how overwhelmed with e-mail he is and how you can best get your message in front of him. In Gary's defense, he's surprisingly diligent about replying to each and every person who seeks out his attention; it's part of what he preaches, that every single person in your audience matters.
Vaynerchuk is a great example of new media clout scoring old media dollars: The "Crushit" book deal with HarperStudio was actually a ten-book deal, announced in the Wall Street Journal, with a price tag that would make the most blue-chip of journalists happy: A cool million. With Vaynerchuk's built-in audience and place atop the new media pantheon, great PR was a given.
But even social media gurus can stumble now and then. The newly created VaynerMedia sent out a poorly written mass e-mail, a B2B pitch for the recipients to interview him regarding his upcoming book. Some background: In the world of new media marketers, who all claim they're more 'authentic' than the next guy, sending a mass e-mail is the equivalent of leaving a bag of excrement at their doorstep and lighting it on fire. Gary's target was a relatively small group of "influencers" who each think they're a special snowflake. Feeling disrespected by the mass pitch, he achieved the opposite effect he intended, and the influencers took it to their blogs. John Cass, of "Social Media Today" (where he boasts to being among "the web's best thinkers on social media and web 2.0") couldn't resist the opportunity to roast Vaynerchuk. Cass wrote:
"Basically, the publicist just told me that he sent out the same email to a large number of people. He's telling me he just sent me a form pitch letter! And the reason it's okay to do that is because Gary's famous, and he might be able to send me some traffic."
Vaynerchuk's strategy for dealing with any kind of negative feedback is to kill the critic with kindness. Because he's constantly monitoring any mention of his name online, Cass' criticism shot up like a bat signal, causing Vaynerchuk to spring into action and leave a comment of apology on Cass' blog. With this sort of hands-on interaction, you would be hard-pressed to find someone he's had a disagreement with that wasn't at least disarmed by his charm even if he wasn't able to change his or her mind. There was little fallout on twitter and among the blogosphere and it served as yet another example of Vaynerchuk's ability to spin it into a mea culpa and a lesson of what not to do in an interview on Blog Talk Radio.
So – did any of this negative feedback blow back on Vaynerchuk? According to Vaynerchuk, "the best part of consulting is if you suck, you don't get rehired or word of mouth (buries you.) I am in the business of moving the needle, not getting Twitter friends. I build businesses. I am not here to become cool, I am here to build brands and tell stories." Part of moving that needle is having the platform he has, and while he says he's not in the business of getting Twitter friends, a good portion of his business is having a massive audience waiting to hear and propagate his next pitch.
In my interactions with Vaynerchuk, he seems driven, enthusiastic, and sincere. He's willing to be called out and seeks out conversations with people who might not 'get' what he's trying to do. The constant self-promotion is what turns some people off. He appeals to the hyper-driven, ambitious ladder-climbers in social media and drives some people who are suspicious of marketing types of any kind up a wall. (That said, a Google search for "I hate Gary Vaynerchuk" turns up only positive hits. So he must be doing something right.) He wants to help you take your passion, be it collecting Smurf figurines or talking about the Knicks, into a business. It sounds like a familiar pitch, something out of a late night infomercial; he's yet to prove he can do it for someone other than his own family's wine business.
Drunk off the success of his wine blog, he's out to prove he can do just that. Stumbling out of the gate with his recent promotional efforts, in classic GaryVee fashion, he uses events like this as a lesson in his video podcasts, which doesn't involve wine at all, but plays like the more modern version of Dicky Fox. Those videos have led to him being booked to speak as the keynote at multiple business conferences, a positive sign for corporate clients outside the wine space. It shows Gary understands selling and marketing beyond red, white or rose. Perhaps those are all the credentials he needs. Which is good, because as far as formal corporate experience goes, he doesn't have much more; VaynerMedia partner A.J. Vaynerchuk may have graduated from Boston University with a degree in advertising, but that was in May.
But those are the old rules, and Vaynerchuk made his mark in a new world. He pushes "authenticity" and "transparency" at a time when they are two of the industry's hottest buzzwards. He also pushes hard work – and has the track record to show for it. More than that, he's proven that he's adaptable – he's a good listener and he's willing to admit mistakes – and learn from them.  Will corporate America look at this kid from New Jersey and be willing to do the same? He's got about 65 million dollars worth of reasons why they should.
Anthony De Rosa is a veteran blogger who has been developing and providing consulting for new media since 1996. Anthony broke the story of Citibank purchasing the naming rights for the new Mets Stadium on his website, HotFootBlog.com which was subsequently picked up and credited by The New York Times, The New York Daily News, TheNew York Post and Newsday. He is the editor in chief of GiantsFootballBlog.com for SNY, the Sports Network of New York.
Anthony has been a guest on numerous radio programs, and has co-hosted a show of his own with Matt Cerrone on Mets Blog radio. He has interviewed players such as David Wright, Jose Reyes, and Carlos Delgado as well as journalists such as Tim Marchman of the New York Sun, John Delcos and Peter Abraham of the Journal News, and Jim Callis of Baseball America. He lends his opinions on a variety of topics, social media and politics in particular, at soupsoup.tumblr.com.
Have a tip we should know? tips@mediaite.com