The Three Responses (So Far) That the Trump Team Has Given For Border Footage Foul-Up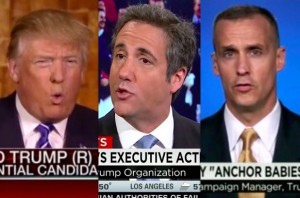 In the span of just over twenty-four hours, the campaign for GOP frontrunner Donald Trump has gone from proudly rolling out its highly-anticipated first ad of the election season to backpedaling about some of the ad's content. The clip in question features what appears to be illegal immigrants running towards, and over, a border wall while a voiceover declares, "[Donald Trump will] stop illegal immigration on our Southern border that Mexico will pay for."
Though, as Politifact uncovered Monday afternoon, the footage in question is not Mexico at all; it depicts 2014 footage of Moroccans fleeing into the Spanish enclave Melilla.
Counting Trump's appearance on Monday night's O'Reilly Factor — plus his lawyer's appearance on CNN's New Day and his campaign manager's comments to NBC News — three different accounts have quickly emerged on the misrepresented border-climbing footage.
ACCOUNT ONE: Donald Trump on The O'Reilly Factor
"That was just video footage," replied Trump to O'Reilly when pressed for a response of the Morocco-swap. "It's merely a display."
"So you don't think the video is a little misleading?" pressed O'Reilly.
"No I think it's irrelevant," replied Trump simply. O'Reilly continued to note to the Presidential candidate that his best course of action likely would have been to properly represent Mexican footage from the actual border Trump plans to build a wall for. You can check out the exchange around the 4:00 minute mark in the above video from Fox News.
ACCOUNT TWO: Donald Trump's Special Legal Counsel on CNN's New Day
Michael Cohen sat down with CNN's Chris Cuomo on Tuesday morning, and as expected, Cuomo hammered Cohen on the misrepresented footage. Cohen immediately distanced himself from the error, actually responding, "I didn't do it."
"I'm not on the campaign trail!" he continued, before Cuomo pressed the counsel to "own it".
Cuomo, to his credit, took the same hawkish approach as O'Reilly, calling out the campaign for a perceived bait-and-switch. Speaking to the typical Trump no-BS mystique, Cuomo said "'I'm real, I don't fake what's going on'. That was a little departure, no?".
Cohen attempted to angle that it wasn't a big deal, before admitting sheepishly, "Yeah I'm gonna have a conversation with whoever made the mistake".
ACCOUNT THREE: Donald Trump's Campaign Manager to NBC News
"No shit it's not the Mexican border!"
And with that, the trio of troubling Trump claims has come full circle. Campaign manager Corey Lewandowski emphatically doubled-down to NBC News on Monday, fully taking ownership of the situation. In fact, Lewandowski claimed the whole stunt was intentional, so really, no one working for the Trump campaign really has any idea what's going on.
Lewandowski continued, "But that's what our country is going to look like. This was 1,000 percent on purpose." In a statement that he later emailed to NBC News, Lewandowski furthered:
"The use of this footage was intentional and selected to demonstrate the severe impact of an open border and the very real threat American's face if we do not immediately build a wall and stop illegal immigration. The biased mainstream media doesn't understand, but Americans who want to protect their jobs and their families do."
We will update this post if (when) even more responses emerge from the campaign.
[images via screengrab]
—
>> Follow J.D. Durkin on Twitter (@MediaiteJD)
Have a tip we should know? tips@mediaite.com