The Tourism Minister of India Says Women Shouldn't Wear Skirts 'For Their Own Safety'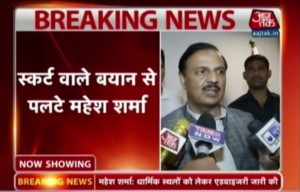 A man named Mahesh Sharma wants to tell female tourists what they can wear in India. He's the tourism minister and he is of the opinion that avoiding skirts is the answer to their problems, just as French officials thought banning burkinis was the answer to theirs. Social and cultural issues can rarely be fixed by telling women what they can and can't wear, but it continues to happen.
The anti-skirt sentiment is found in a welcome kit that has been being distributed to tourists since last year. It "is one of a suite of measures introduced to address declining rates of female tourism after the high-profile gang-rape and murder of a Delhi medical student in 2012, and a number of subsequent attacks on female tourists," according to the Guardian.
On Sunday, Sharma went back on the record, saying that the guidelines weren't meant as a dress code for adult women. He explained that he hadn't given "specific instructions" so much as a suggestion to "take precautions."
The director of the Delhi-based Centre for Social Research, Ranjana Kumari, blasted the "syndrome of blaming women" by saying, "It was very stupid, not a fully thought-through statement. The minister doesn't realize the implications of such irresponsible statements … But the problem is men and boys in India. They go for all kinds of misogyny and sexual acts, rapes and gang-rapes. It's important for [Sharma] to have said how to punish the perpetrators of crime and stop the nonsense of ogling women and following them. Why should any girls come to India when it is becoming famous for not being safe to girls?"
She's not the only one speaking out. Indian politicians and influencers have not been quiet, either:
I will be writing a letter to Mahesh Sharma ji today requesting him not to insult nation by such advisories. https://t.co/JnoteVLeqD

— Kapil Mishra (@KapilMishraAAP) August 29, 2016
France shd send all burkinis it confiscates to our Tourism Minister who'll turn India into a Hindu Saudi Barbaria https://t.co/o5XudSXzh3

— Shekhar Gupta (@ShekharGupta) August 29, 2016
In spite of the astronomical rate of rape and the way that male officials seek to handle it, women have been working hard lately to make India better for themselves. They have created an all-female newspaper and have been finding creative ways to share their stories and create a sense of community among victims.
[image via screengrab]
Have a tip we should know? tips@mediaite.com