The View Hosts Hammer Kasich on Gun Control: 'Maybe Congress Should Never Take Money from the NRA'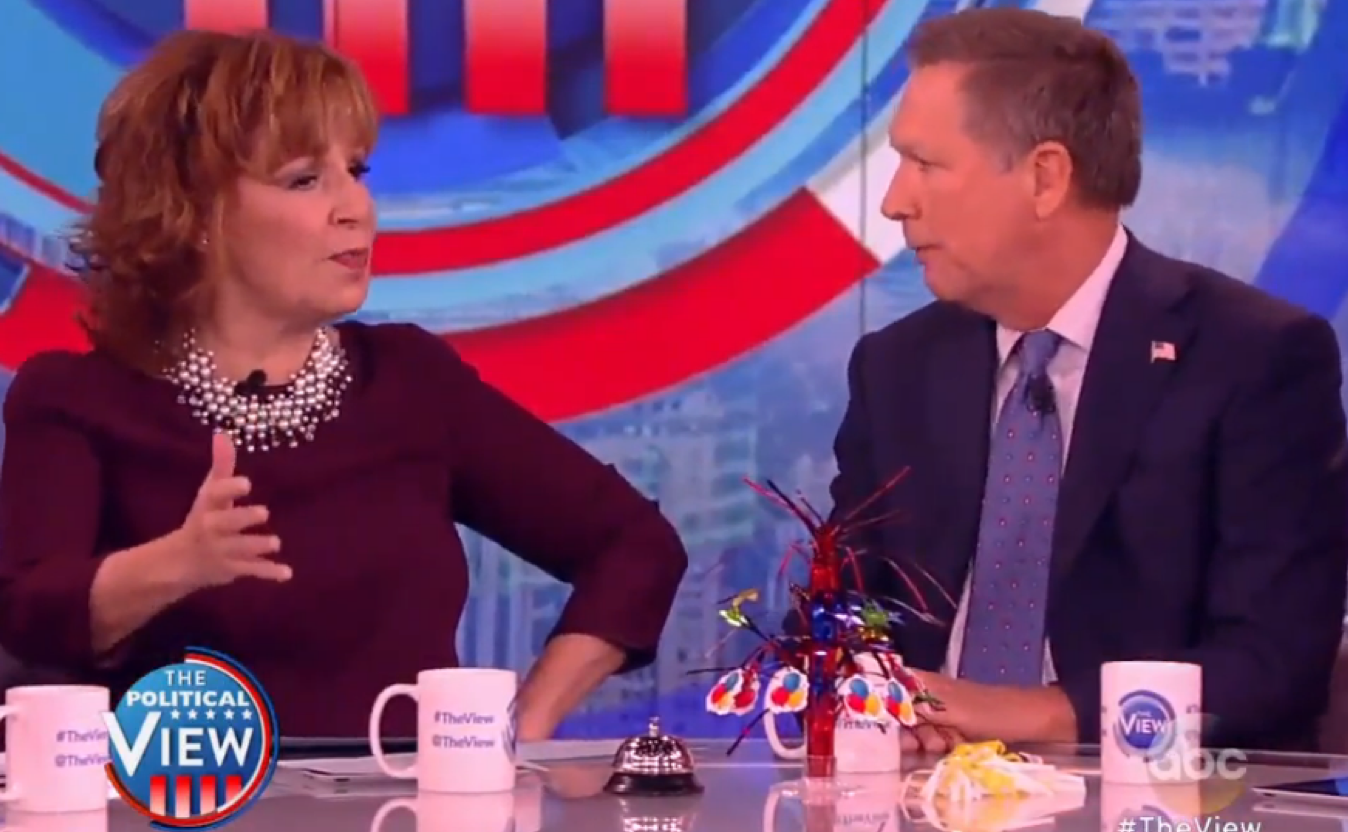 Editor's note: Whoops, it turns out this was a rerun from an October episode that featured Kasich.
During a heated conversation on gun control, The View hosts challenged Republican presidential candidate John Kasich on gun control and the NRA's power over Congress.
Listing off the experience he gained as the Governor of Ohio, Kasich mentioned that he dealt with a school shooting during his administration.
"What you are you going to do about guns, let's cut to the chase," co-host Joy Behar interjected.
Kasich said the first steps are to enforce existing gun laws and overhaul the mental health system. The Republican candidate insisted the typical narrative that precedes mass shootings is one where "the families have broken down, the communities are broken down, the neighbors are not there."
"That's true about a lot of people in this country, but they don't all have guns," Behar retorted.
Michelle Collins asked Kasich about the 11-year-old boy who shot and killed his 8-year-old neighbor last October. "If there wasn't a gun in the home, it wouldn't have happened — plain and simple," Collins said.
"Why does the NRA have so much control over Congress?" Collins later asked.
Kasich said the NRA is a popular association because "people feel like they have a right to protect themselves and their families."
"With an AR-15?" Behar replied.
"Why is it so difficult for us to say, 'Here's the bottom line. We're not going to sell AK-47's because you can't hunt with them,'" Whoopi Goldberg asked. "You can't hunt a deer — there's nothing left. Can you do that as president? Would you do that as president?"
Kasich continued to mention the connection between mental health mass shootings, arguing that alienation leads unstable individuals to target innocent people.
"Given all of that alienation, on top of that, there are too many people with weapons," Behar said. "That's the problem, don't you see that? Maybe Congress should never take money from the NRA, how would that work out?"
Watch the full exchange above, via ABC.
—
>> Follow Elizabeth Preza on Twitter (@lizacisms)
Have a tip we should know? tips@mediaite.com